Here at LiveWell Waterloo, our commitment has always been and will continue to be the health, wellness, and success of each and every one of our patients. We are proud to welcome all types of patients with all types of goals, and we are committed to making every appointment one that brings your health and wellness closer to your goals. Thank you for choosing the LiveWell Waterloo team to be a part of your health journey, our patients are our motivation day in and day out. With that, we are pleased to introduce our LiveWell Waterloo team!
---
1) Physiotherapists
---
Greg Heikoop – Clinic Director and Senior Physiotherapist
Greg is both the Clinic Director and Senior Physiotherapist at LiveWell. He has been a part of the LiveWell team since 2006, and he now has his Doctorate in Physical Therapy.
Greg's focus is on orthopedic patients in various populations, where one-to-one manual therapy and patient-centred care are always his top two goals. He is also very passionate about Differential Diagnosis, in which he always strives to provide the highest level of assessment. Educating his patients about their current injuries, while creating an understanding of how to avoid future injury remains his primary model of care.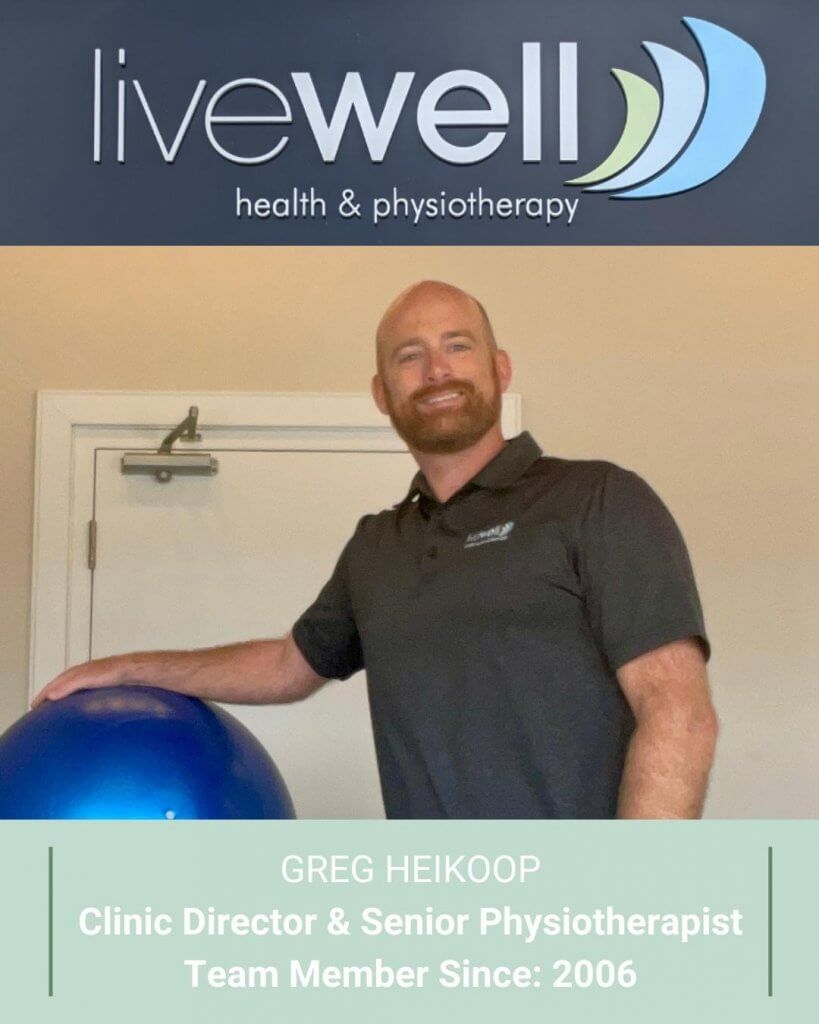 What makes LiveWell so special?
"I enjoy working at Livewell because of the strong sense of community connection that is reflected in the attitude of the patients and the team I work with. Physiotherapy was something that I fell into by luck but found to be the most amazing job – offering the chance to improve people's life and wellness. As a physiotherapist, I love the ability to connect with my patients and see them through their stages of recovery and prevention. As a Clinic Director, I am truly blessed to have such an amazing and strong team of colleagues to call friends. The entire team at LiveWell continues to work towards the common goal of wellness in their patients' lives as well as their own." – Greg
What makes your patients so special?
"The patients at LiveWell are amazing because they are the ones that give us a chance to improve their lives by making the effort to come into the clinic. It takes a great amount of time and effort to improve your wellness, and without our patients, we wouldn't have such an amazing clinic to work in." – Greg
---
Lyndsay Richards
Lyndsay joined the LiveWell team in 2019 as our clinic PTA (physiotherapist assistant). She has since taken on the role of Operations Manager and oversees all four LiveWell clinics to ensure things are always running smoothly.
Lyndsay is a firm believer in functional exercises and thinks that exercise is vital in everyday life no matter your age or ability. It is never too late to start healthy habits even just a little at a time. A quote Lyndsay loves and lives by: "If you want the rainbow, you have to put up with the rain".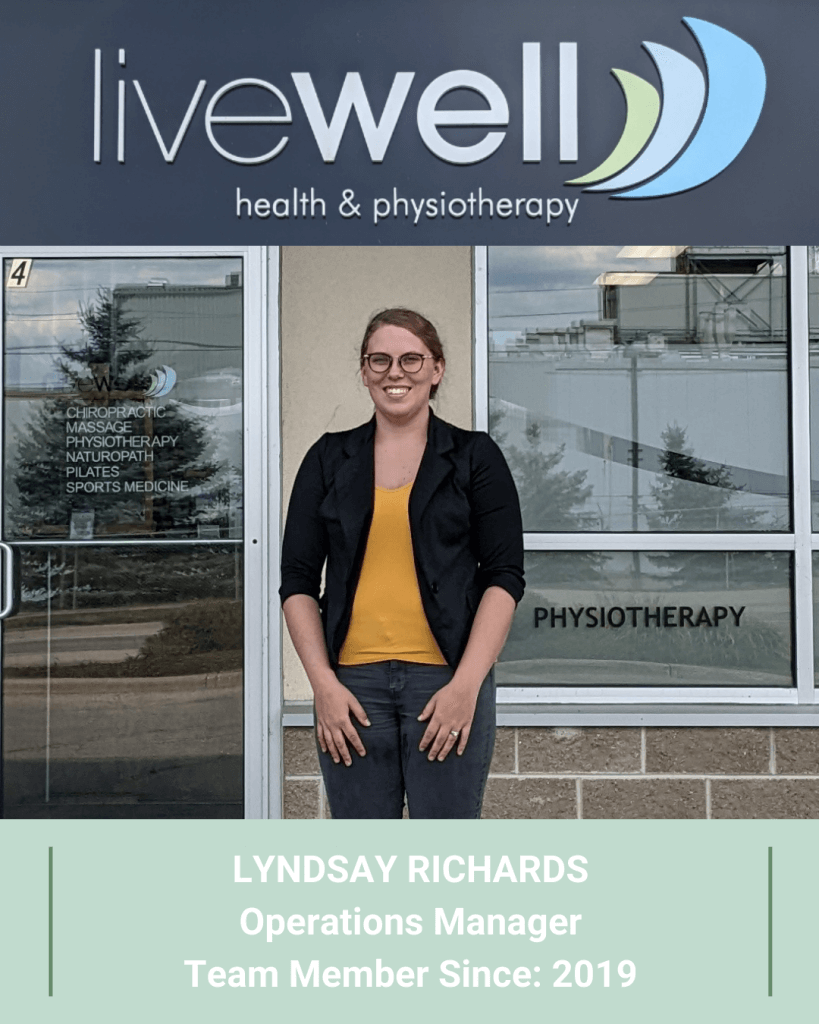 Why do you enjoy working at LiveWell?
"I love working at LiveWell because of the positive atmosphere. There is a great sense of comradery in all the clinics which makes for a wonderful work environment. I also enjoy my role in the clinic because every day is different, and I am able to help out at any location. I get the opportunity to utilize my creative side to tackle any task and I enjoy working closely with our administrators and practitioners. Although I miss working closely with patients in my PTA role, I am still able to connect with patients at the front desk by conversing with all who come into the clinics." – Lyndsay
---
Farnaz Rostami
Farnaz has been working as a physiotherapist at LiveWell since 2016 and has over 20 years of experience in physical therapy and healthcare. She is very passionate about physical therapy and is always eager to develop her knowledge, skills, and journey with the LiveWell team.
Karen treats a wide variety of ages and injuries including chronic conditions, sports injuries, motor vehicle accidents, and work injuries. She enjoys the bright open space of the clinic, as well as the access to clinicians from multiple disciplines.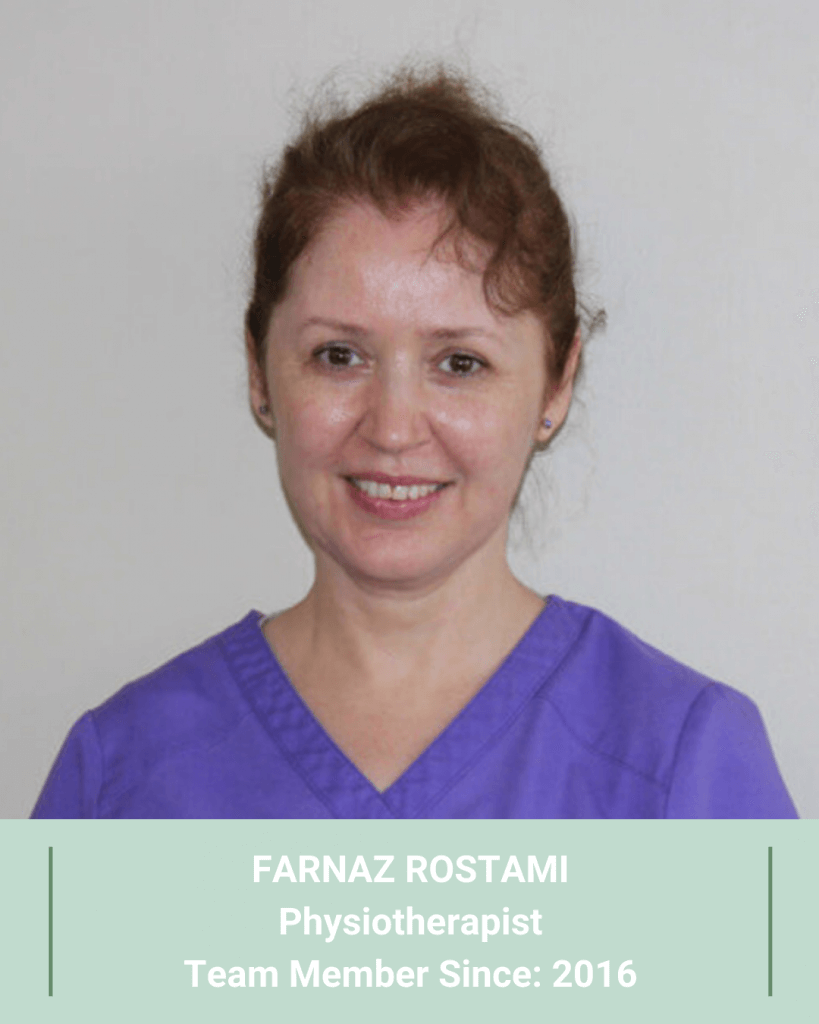 What makes LiveWell special?
"The thing that makes LiveWell so special is the level of care that is shared between team members, which is then transferred from each practitioner to their patients." – Farnaz
---
Moni Dhamat
Moni joined our LiveWell physiotherapy team in February 2022. In addition to her "hands-on" approach, she believes a good physiotherapy session should include two things:
Listening to the details of the patient's pain or discomfort in order to properly educate and treat the patient to achieve their goals
Giving space for patients to interact freely, particularly through their home exercise programs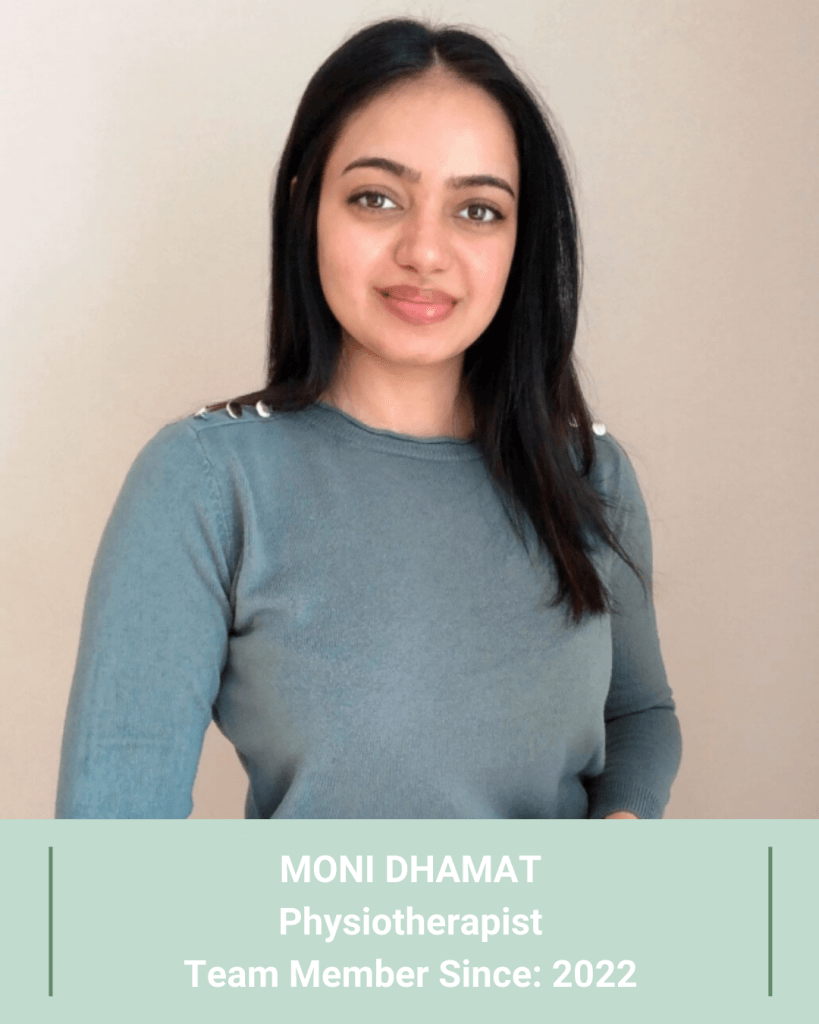 Why physiotherapy?
"I believe that physiotherapy is more than just a physiotherapy session, it's a lifestyle. It is what pushed me to pursue my licensing in Ontario, and I am fortunate to have the opportunity to continue practicing physiotherapy at LiveWell, following my career in India." – Moni
---
Andrew Daly
Andrew first joined the LiveWell team as a physiotherapy assistant in January 2017. After completing his Masters in Physiotherapy, he returned to LiveWell in 2021 and he is now working as a Physiotherapy Resident. Andrew aims to provide exceptional patient-centred care with comprehensive assessments and a balance of targeted manual therapy, tailored exercises, and patient education.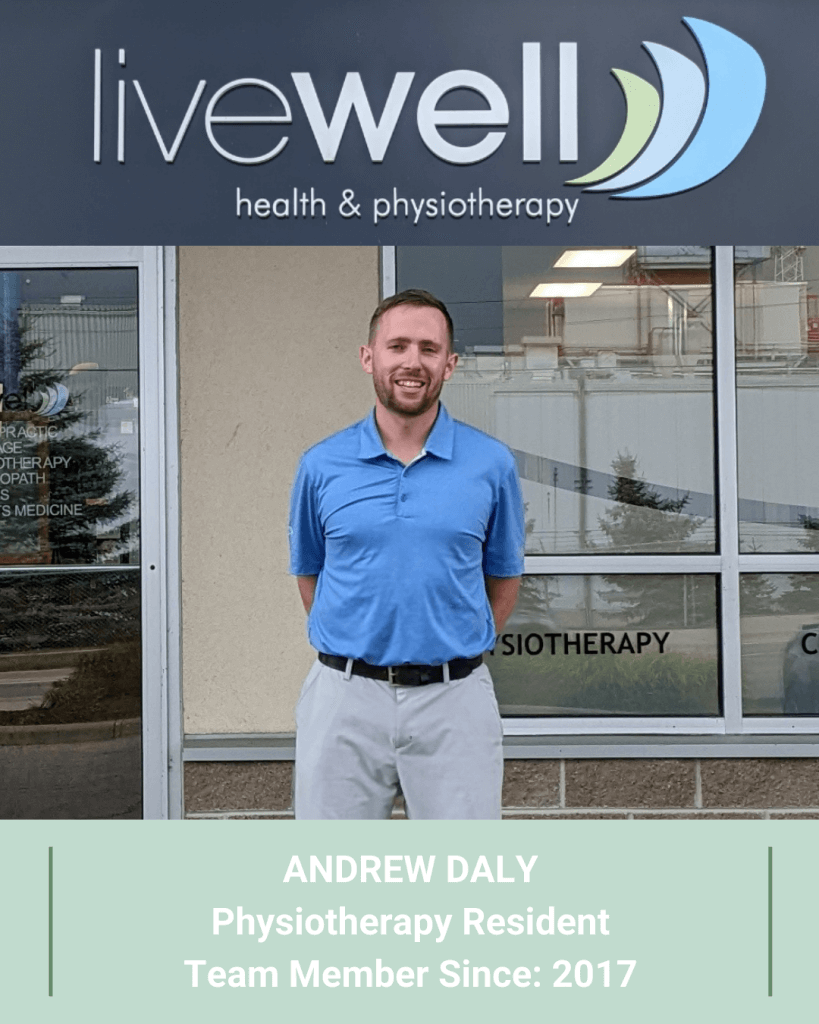 Why do you love working at LiveWell?
"I am ecstatic to have returned to LiveWell as it is where my passion for physiotherapy began. I thoroughly enjoy the team aspect at LiveWell and I look forward to learning and growing within the team environment." – Andrew
---
Amy Carere
Amy started working as a physiotherapist at LiveWell Waterloo in 2018. She completed her Bachelor of Science in Kinesiology at the University of Western Ontario, Doctor of Physiotherapy degree at Bond University in Australia, and worked as a Physiotherapist for two years in Australia before moving back to Canada.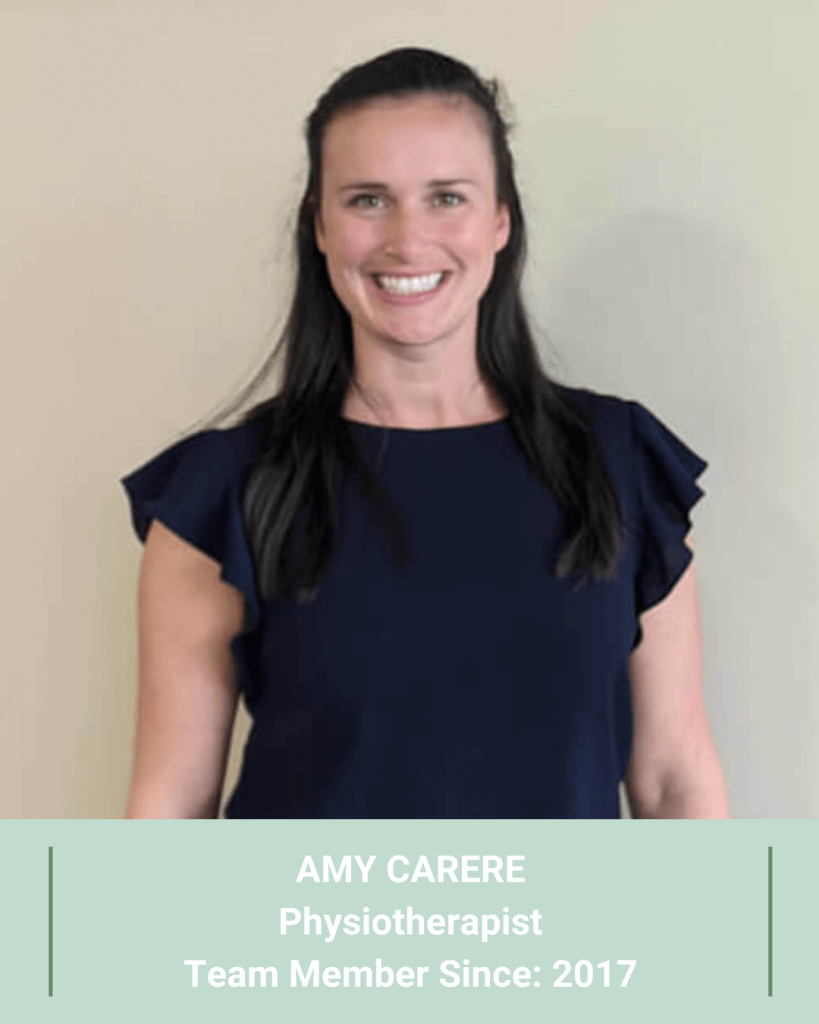 What makes your treatment different?
"Complemented with manual therapy and exercise prescription, patient education and advice are the most important part of my treatment." – Amy
---
Melissa Hay
Melissa has been a physiotherapist at LiveWell Waterloo since 2018. She completed her Master of Physical Therapy degree at Western University and doctorate degree in Health and Rehabilitation Sciences in the field of Physical Therapy with an area of research exploring exercise for older adults with chronic back pain.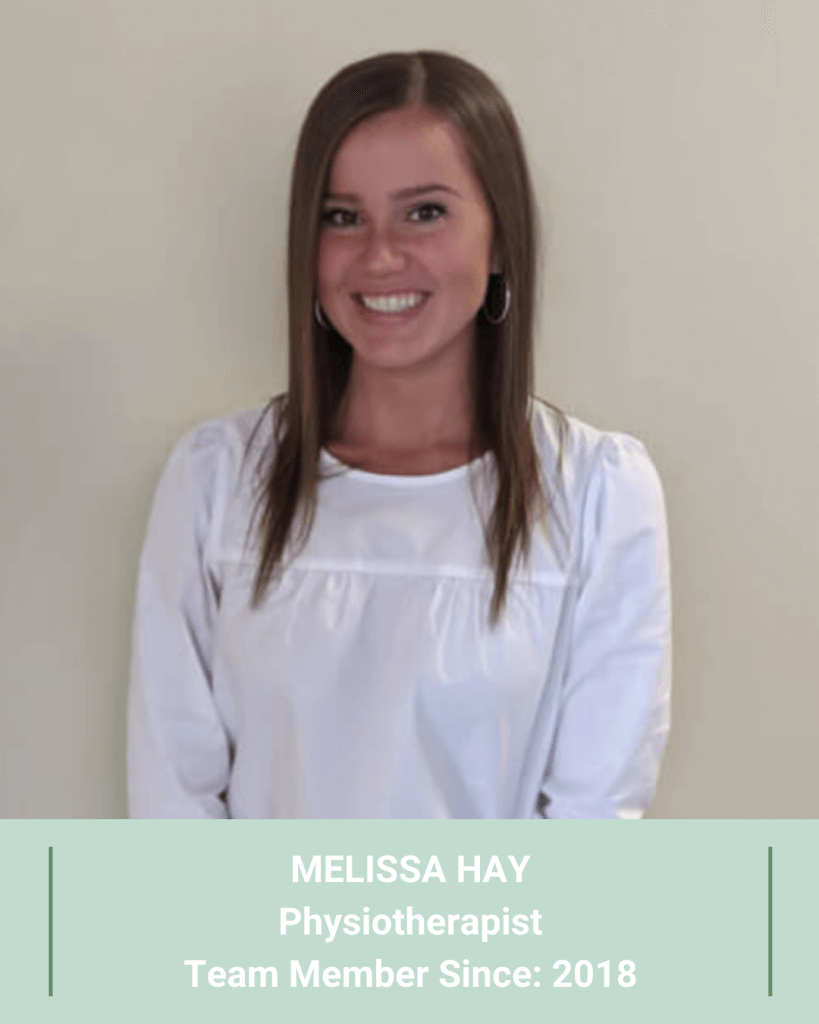 What is your approach to physiotherapy?
"I am dedicated to providing compassionate, patient-centred care by offering a reflective approach to clinical practice, a genuine interest in well-being and recovery, and a desire to help people live healthy active lifestyles at any age." – Melissa
---
2) Chiropractors
---
Dr. Allensen
Dr. Allensen has been the chiropractor and certified Active Release Techniques (ART) provider at LiveWell Waterloo since 2006. His chiropractic treatments use a combination of manual adjustments (spinal and extremity), Active Release Techniques®, Cox flexion-distraction technique, patient education, modalities, exercise therapy, nutrition, and Kinesio Taping.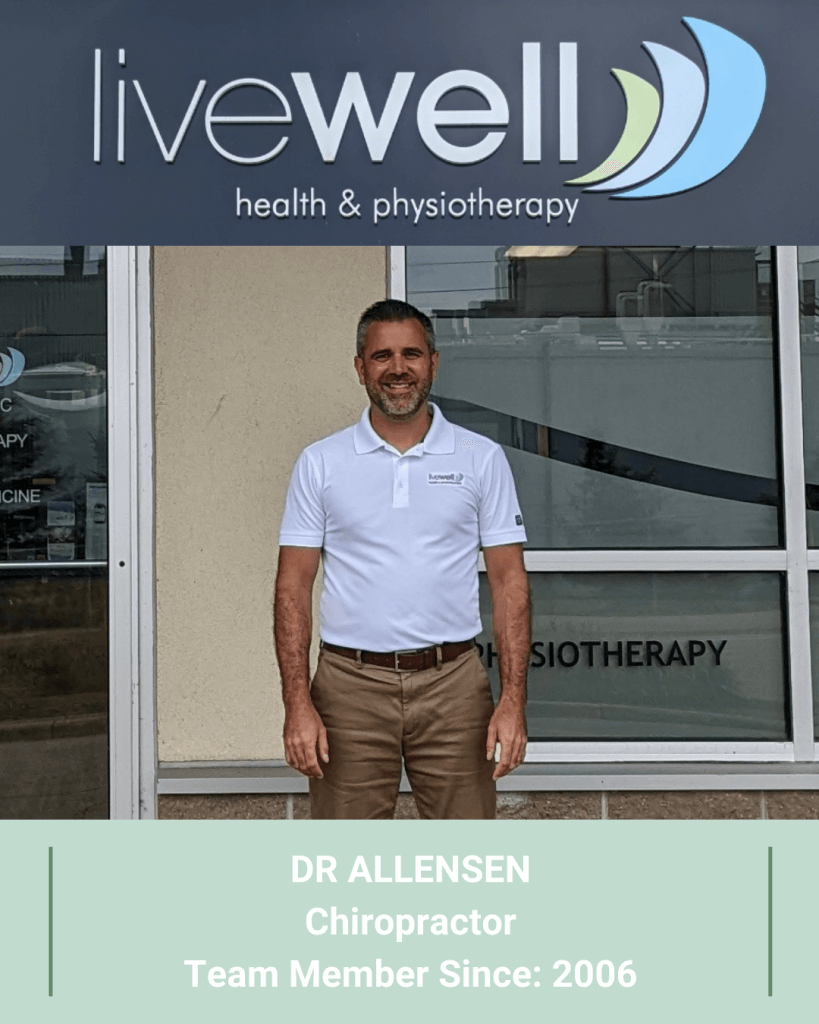 What type of patients do you typically work with?
"I enjoy working with a diverse patient base at LiveWell. From athletes to weekend warriors, children to seniors, making a difference in a patient's quality of life is truly a rewarding experience. The multidisciplinary, collaborative team approach to healthcare at LiveWell allows us to serve the needs of our patients all under one roof, thereby increasing positive patient outcomes." – Dr. Allensen
---
3) Registered Massage Therapist
---
Valerie Bieth
Valerie joined LiveWell when it first opened in 2005, and she is one of the four registered massage therapists on the team. She specializes in Swedish massage, as well as reflexology, a technique which she is currently working towards certification in.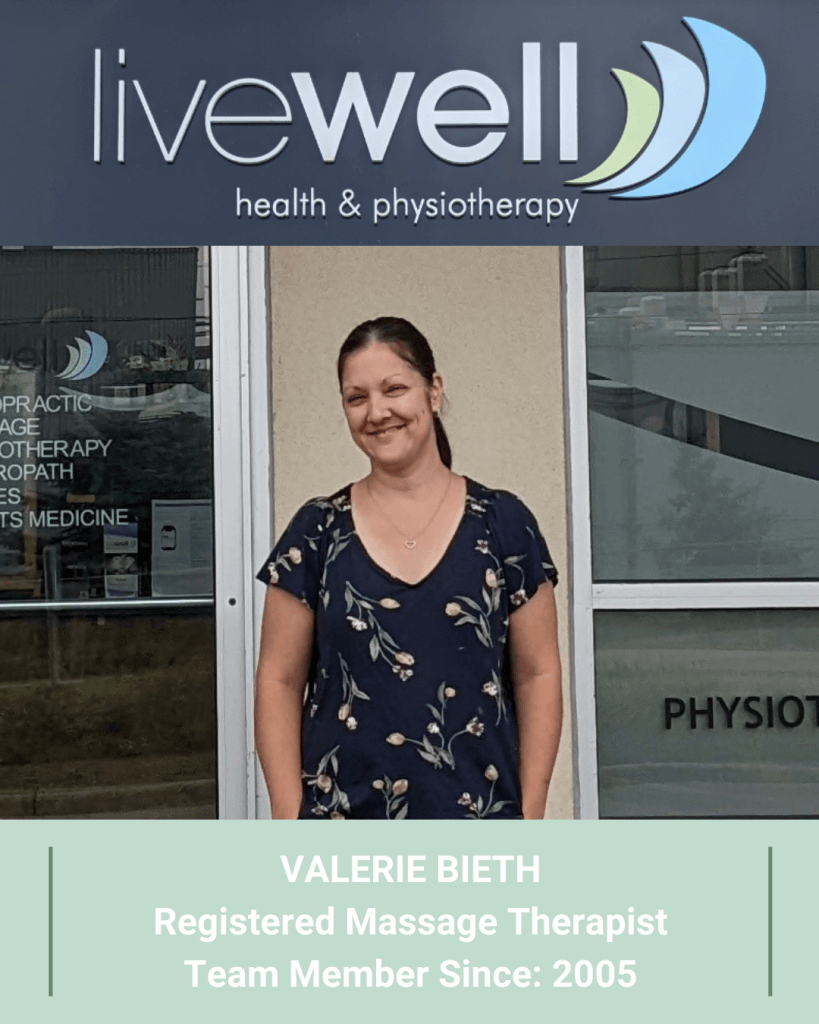 Why do you value the LiveWell environment?
"LiveWell is a wonderful place to work. We work well individually, but even better as a team. I love working as an RMT as I have made some real connections with some amazing patients! LiveWell gives everyone a feeling of belonging and being appreciated. We are a clinic that genuinely cares about the people who use our services and work hard as a team to achieve the best results." – Valerie
---
Kate Hahn
Kate has been working as a registered massage therapist at LiveWell for 6 years and she treats a wide range of patients. Whether someone comes in with an injury, work-related postural issues, or is looking for stress and tension relief, Kate can help.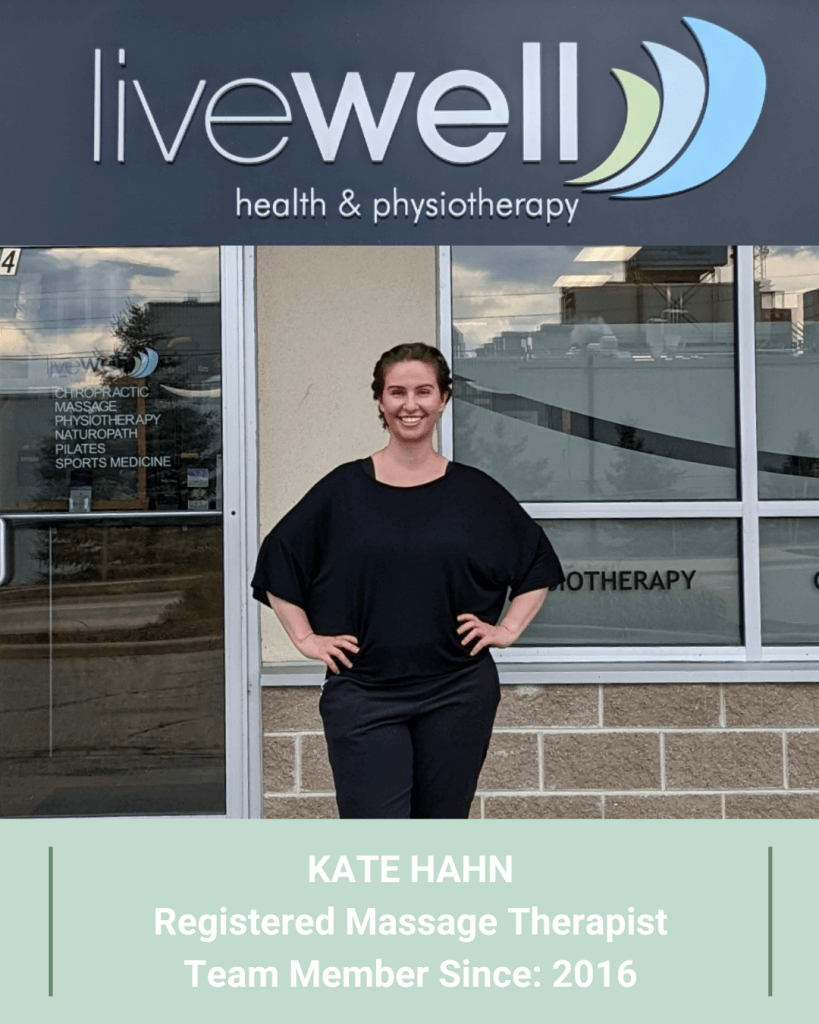 What is your favourite thing about working at LiveWell?
"The thing I love most about working at LiveWell is our team and my patients. Working with other professionals allows for my treatments to be more effective, and our clinic has the absolute best staff. I have many long-time patients that I have loved getting to know and help over the years, and I'm always excited to add new patients as well." – Kate
---
Ken Roche
Ken has been a part of the LiveWell team since it opened in 2005 but has been practicing massage therapy since 1996. He is visually impaired and specializes in massage for both the disabled and able-bodied athletes, and has a wide variety of experiences with patients with different physical disabilities.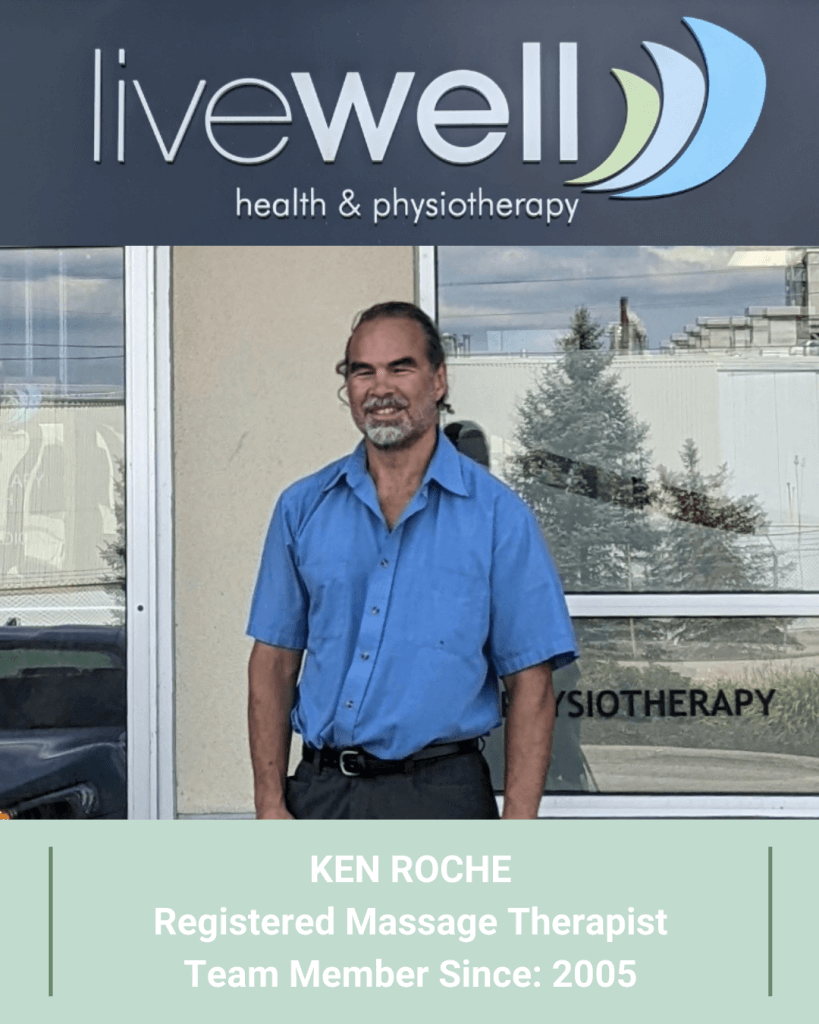 What type of patients do you typically work with?
What makes your experience working at LiveWell so special?
"I enjoy working at LiveWell as I have the opportunity to work with people of all walks of life. I am committed to putting my patient's well-being first, and I work late most evenings in order to provide my patients with the most appropriate care possible." – Ken
---
Alicia Erz
Alicia joined LiveWell Waterloo in August of this year, making her the newest member of our team. Previously, she had worked with a number of charitable organizations that focused on health and wellness, while pursuing her career in communications. Getting the chance to meet and talk to patients, families, and healthcare professionals really inspired her to have a more direct impact on the health and wellness of others.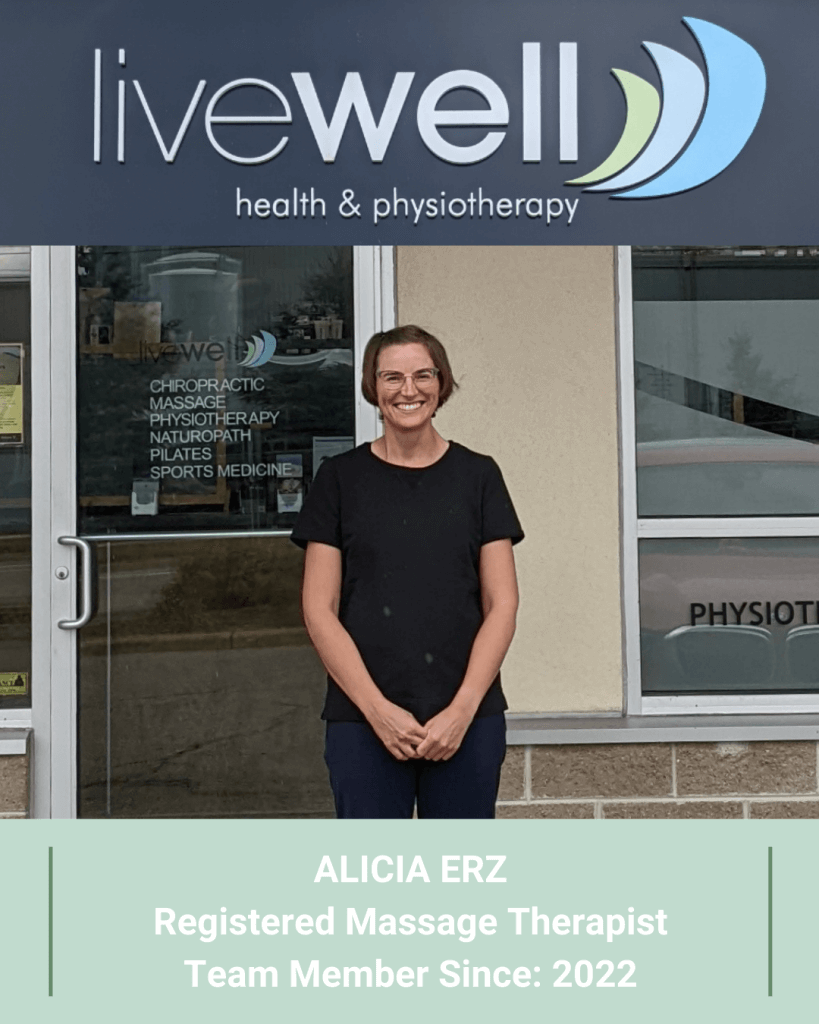 Why do you love your role as an RMT?
"I love working with people. Having the chance to experience the benefits of massage in my own life, I decided to make a career change, head back to school, and become a Registered Massage Therapist. I'm so happy I did! I absolutely love being an RMT, along with having the opportunity to work one-on-one with people to help them stay active and enjoy their day-to-day lives." – Alicia
---
4) Osteopath
---
Donna Taylor
Donna has been working at Livewell since 2019. She is a Manual Osteopathic practitioner with over 20 years of clinical osteopathic experience. Highly sought as a consultant, Donna's unique skillset allows her to get to the root cause of the patient's issue and develop treatment plans that support the body's healing mechanism.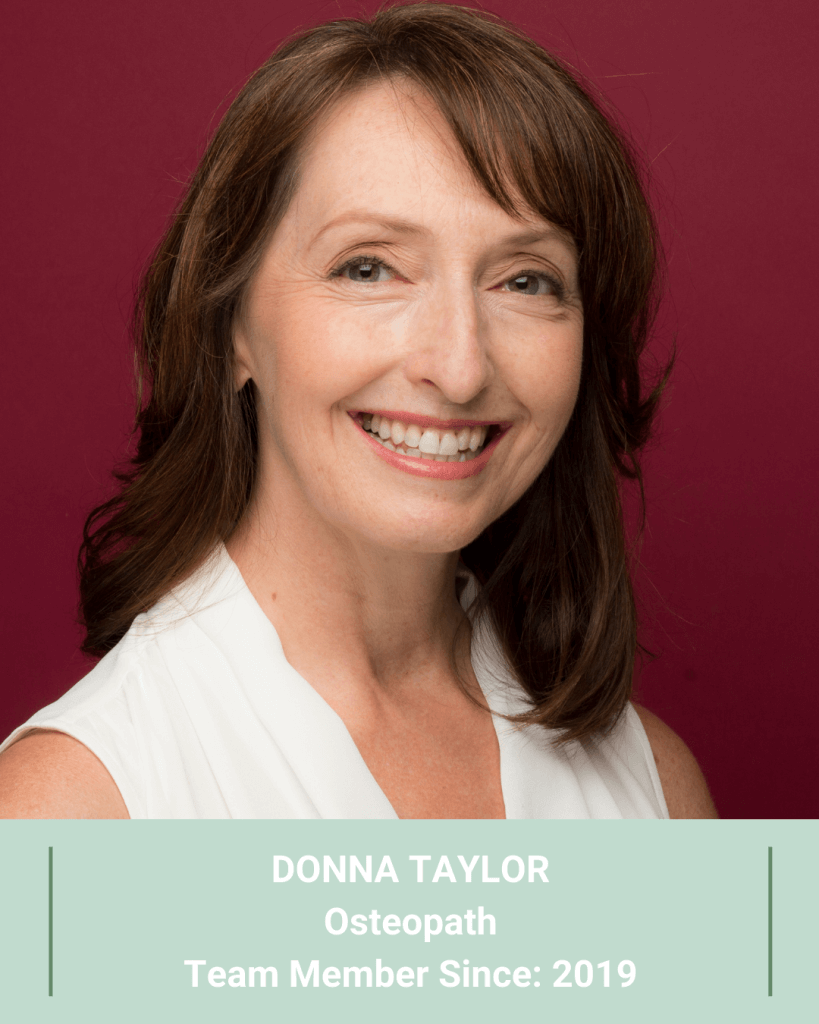 What do you value about LiveWell?
"I love the caring and respectful environment that the team and administration work so hard to maintain. I am passionate about Osteopathy, and I believe that healing is inherent. My job is to facilitate the removal of blocks and interferences, which will in turn allow the body to move toward self-correction and optimal health. I especially enjoy combining in-depth knowledge of traditional anatomy and physiology with cutting-edge science and technology to activate the healing process." – Donna
---
5) Pelvic Health Physiotherapist
---
Carolyn Joseph
Carolyn has been working at LiveWell Baden since 2016 and LiveWell Waterloo since 2021. She first spent her career working in orthopedics and sports rehabilitation and she now exclusively practices pelvic physiotherapy.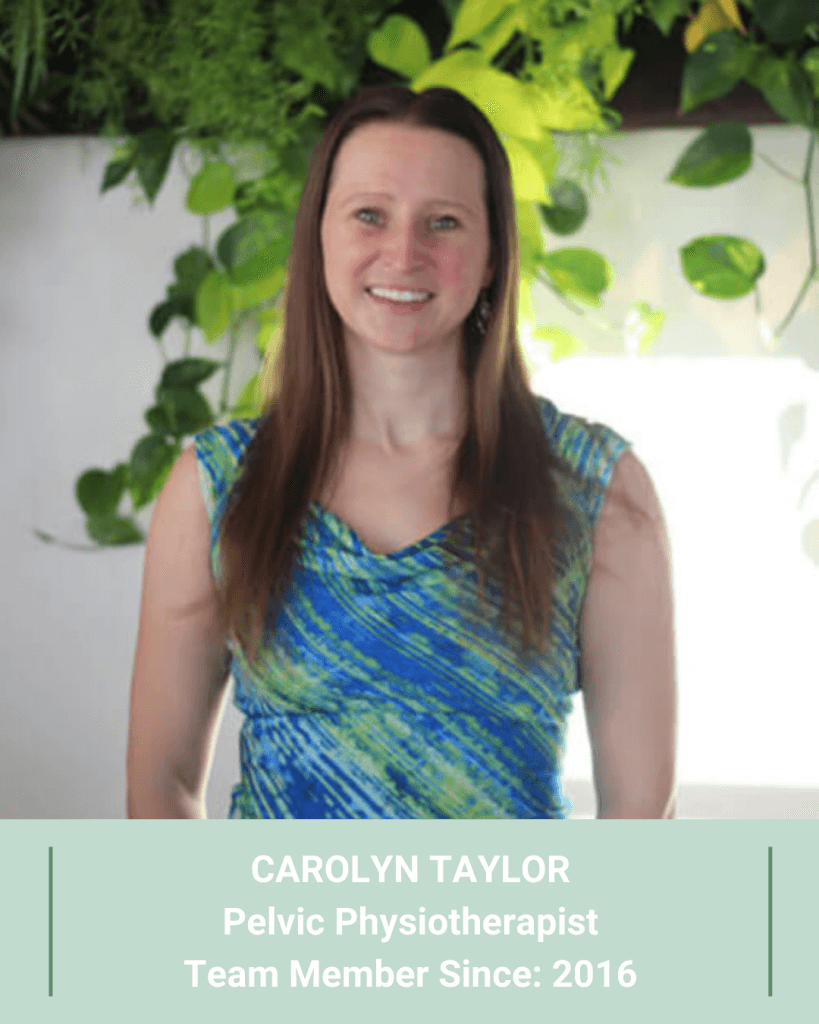 Why pelvic physiotherapy?
"I am passionate about pelvic health. There can be such a dramatic improvement in function, and well-being can be achieved in this very important – and often not talked about – area of people's lives. It is important to me that pelvic health and its symptoms can be talked about and thought of in a comfortable and confident way." – Carolyn
---
5) Pilates
---
Amy Waters
Amy started her Pilates journey 11 years ago at LiveWell Waterloo. Being a busy mom, Pilates is her anchor as it is the one thing that allows her to ground herself in this chaos we call life.
What drives your passion for Pilates?
"As a movement educator, I am passionate about helping people meet their goals, but mainly, I want to help people work through their pain and live life with a fluidity they've never felt before. Teaching is a huge responsibility, and I am happiest when a patient comes in and says, "I was able to get out of bed without pain today." – Amy
---
6) Office Administrators
---
Francine Calver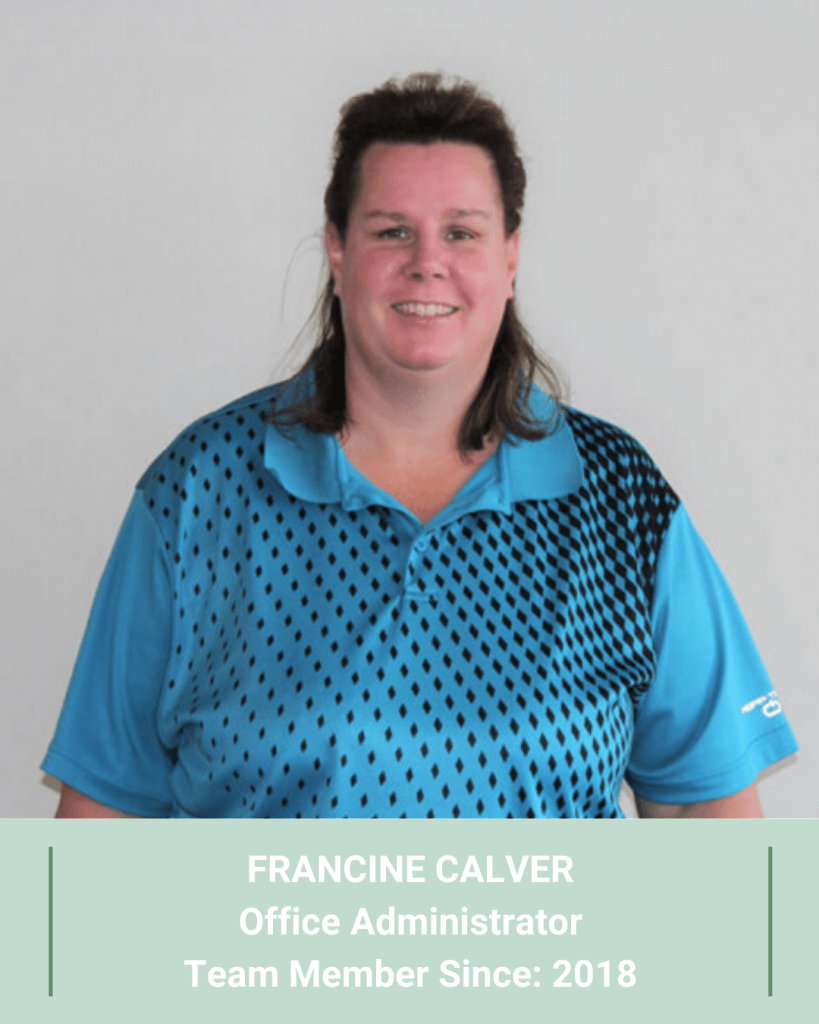 Francine started at LiveWell Waterloo in 2018, bringing 13 years of experience as an office administrator in the rehab industry. Previous to that, Francine graduated with honours from the Physiotherapy Assistant Program at Mohawk College and worked as a PTA for 4 years. Please don't hesitate to reach out to Francine if you have any questions or would like to book an appointment with our team.
—
And that's the LiveWell Waterloo team! We hope you enjoyed learning about our highly motivated and dedicated team members. If you would like to book an appointment with any of our practitioners, please do not hesitate to contact us or to schedule an appointment through our Online Booking System. We look forward to being a part of your health and wellness journey!