Do you suffer from chronic pain? Are you dealing with an injury and need extra support to ensure you're taking the proper steps towards a safe and healthy recovery? Here at LiveWell, we offer a variety of health services that support our patients in coping with chronic problems, healing from injuries, and maintaining a well-balanced lifestyle. Our team of certified professionals provides the highest level of rehabilitation with the most advanced and proven therapy techniques. So, as you work towards safe and healthy rehabilitation, follow along our blog to learn about the ways in which our LiveWell services can treat your chronic conditions!
1) Physiotherapy
Physiotherapy is the branch of science that studies the movement of the body, along with its functions. It provides solutions on how to restore the body's movement through gentle exercises that strengthen the body's muscles and joints. Our physiotherapists have an advanced understanding of how the body moves, what keeps it moving well, and how to restore mobility. They are also skilled in the assessment and management of a broad range of conditions that affect the musculoskeletal, circulatory, respiratory, and nervous systems. From post-surgery recovery to chronic illness, health conditions, and athletes wanting to maintain proper movement, our team takes the time to develop customized physiotherapy treatment plans that are tailored to each patient's needs. Treatment plans typically include a combination of regular sessions at our clinics, home exercises, methods for muscle relaxation, and education about your body. Through our tailored treatment plans that properly explain your recovery, track your progress, and get your body back in motion, you can trust that our physiotherapy services will not only restore your mobility, but will improve your overall quality of life!
As physiotherapy provides important health benefits to each and every patient, the list of conditions that our LiveWell physiotherapists treat is quite lengthy. Our patients trust our physiotherapists because we have experience in treating and managing such a long list of conditions that affect mobility. Below are some of the conditions that our physiotherapy services can rehabilitate:
Back, Neck, and Shoulder Pain
Repetitive Muscle/Joint Strains and Sprains
Sports Injuries and Rehabilitation
Workplace Injuries
Tendonitis and Nerve-Compression
Post-Surgery and Post-Fracture Conditions
Motor Vehicle Accident Injuries
Cardiorespiratory Conditions
Arthritis and Parkinson's Disease
Pre-Natal and Post-Natal Conditions
Pelvic Floor Weakness and Incontinence
Pediatric Mobility Conditions
Neurological Disorders
Cancer Treatment Complications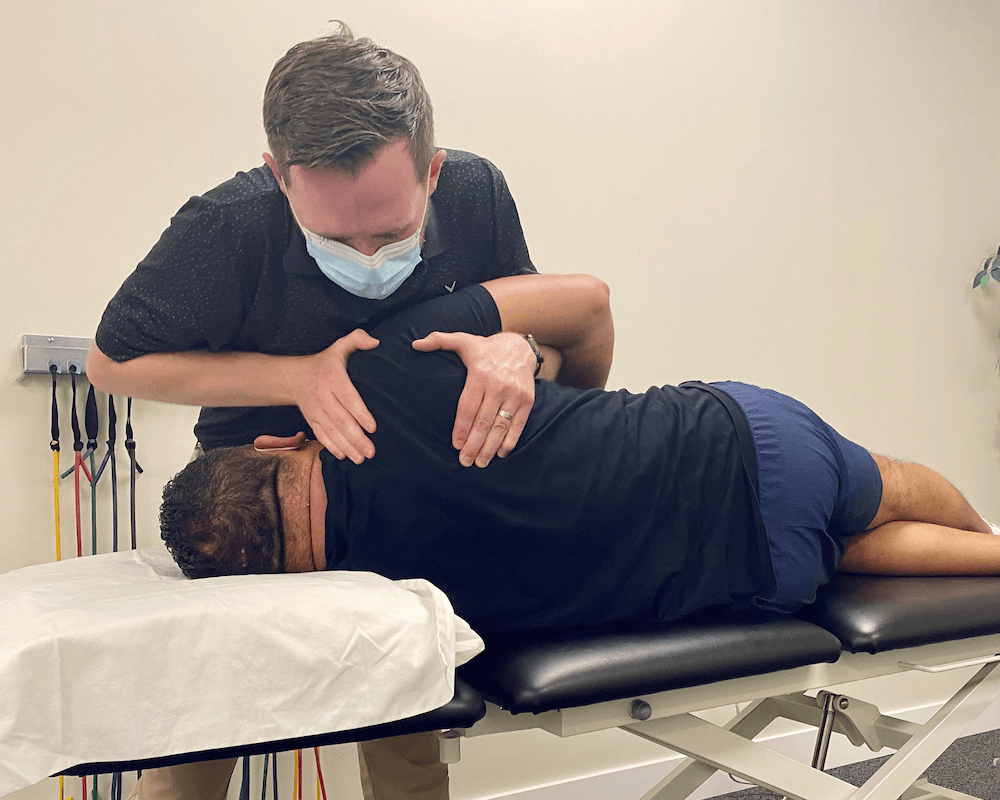 2) Chiropractic Care
Many people believe that chiropractic care is only used to treat back pain, however, it treats much more than that. Chiropractic care is a hands-on, non-invasive approach to healthcare that focuses on the musculoskeletal system. Our team of chiropractors focus on our patient's joints, muscles, and nerves to treat a variety of conditions. They provide diagnoses, treatments, and preventative care for disorders related to the pelvis, nervous system, spine, and joints, which in turn, helps our patients lead active and healthy lives. By treating neuromusculoskeletal elements of chronic conditions, chiropractic treatment works to improve the general wellbeing of patients, as well as empower them to get their bodies moving in optimal form. Additionally, our clinic's medicine can be combined with a unique chiropractic treatment called Active Release Technique or A.R.T. for short. Through this technique, our chiropractors treat the soft-tissue system of a patient's body through massage-like movements to target muscles, tendons, fascia (connective tissue), ligaments, and even nerves. This means our team is able to diagnose and treat myofascial pain and inflammation which is caused by overused muscles, surgeries, joint dysfunctions, adhesions, and overall muscle tenderness. A.R.T. works to stretch out and soften the body's tissues while also improving its range of motion.
As our chiropractic medicine can be used to treat a variety of conditions related to the muscles, joints, nerves, or bones, chiropractic care is the preferred treatment for many of our patients. It is a non-invasive approach and can be paired with other LiveWell treatments such as massage therapy and acupuncture. Below are just some of the conditions that our team of chiropractors can help treat:
Upper, Lower, Mid, and General Back Pain
Neck Pain and Limited Neck Movements
Concussions, Headaches, and Migraines
TMJ Dysfunction and Jaw Pain
Shoulder, Arm, Leg, and Hand Pain
Arthritis and Other Inflammatory Diseases
Whiplash and Other Vehicle/Sports-Related Injuries
Workplace and Repetitive Strains or Sprains
Sciatica Nerve and Spine Pain
Carpal Tunnel Syndrome
Limited Range of Motion Throughout the Body
Lifestyle Modifications and Ergonomic Assessments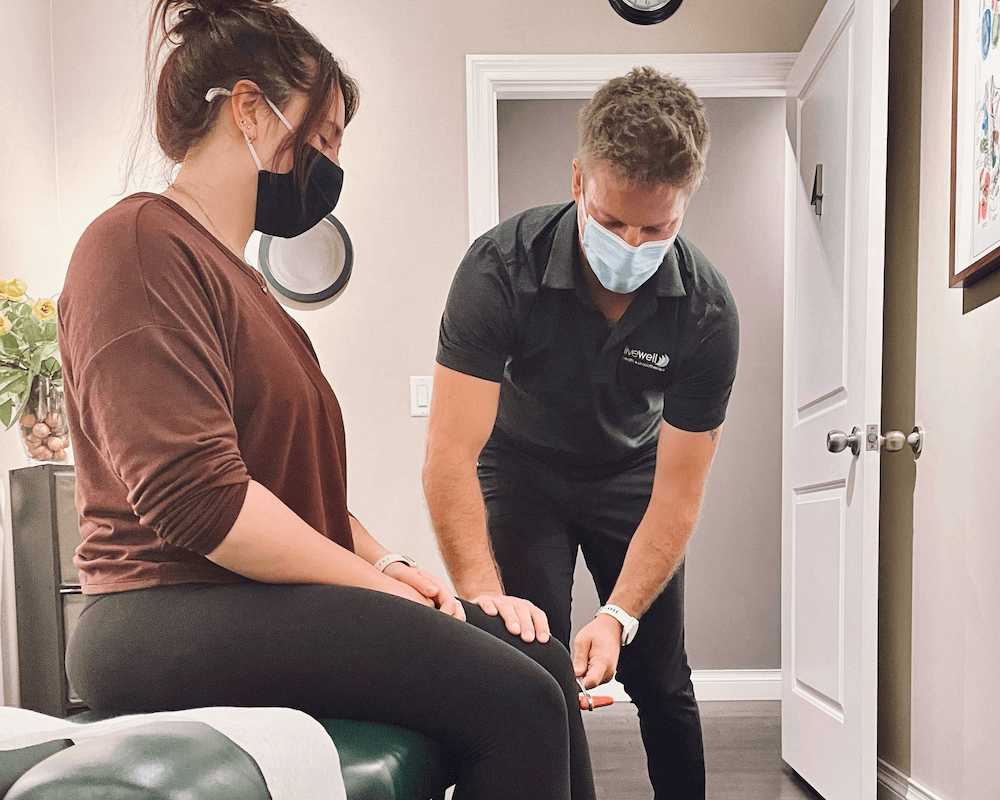 3) Massage Therapy
Massage therapy is one of the oldest methods of healing there is. Registered massage therapy is a comprehensive profession and health management strategy involving a range of techniques used to manipulate soft tissues and joints in the body. These techniques usually involve a combination of pressure, compressions, kneading, friction, and mobilization, which help improve any conditions a patient may be facing. Massage therapy also has a positive impact on the health of muscles, tendons, skin, fascia, and/or connective tissue within the body, making it an ideal treatment for those looking to enhance their overall health and wellness.
The primary goal of massage therapy is to rehabilitate and optimize physical function while also working to prevent and relieve any feelings of pain. This practice is clinically orientated and a healthy option that gives patients undeniable results ranging from stress relief to managing chronic pain. While many of our patients utilize our massage therapy services to support them in the healing of injuries, illnesses, stress, or general discomfort from muscular overuse, it can also be used as a preventative measure before any pain or conditions are developed.
There are a number of health benefits that come from regular massage therapy treatments. These benefits can be experienced at any age and for a variety of reasons. While massage therapy certainly benefits injured, ill, or stressed patients, the real strength of our RMT's lies in the prevention of pain, injuries, and health issues. So, don't wait until you're in pain to regularly schedule appointments with our registered massage therapists. At each appointment, one of our highly skilled RMT's will make sure to explain what you can expect from your session and provide as much detail as possible about the specific areas being targeted and why. Below are just a few of the reasons to seek treatment from our team of RMT's:
Anxiety, Depression, Stress, and Insomnia
Back, Extremity, and Neck Pain
Joint and Muscle Pain
Muscle Tension, Spasms, Strains, and Sprains
Chronic Pain, Edema, Fibromyalgia
Arthritis and Other Inflammatory Conditions
Chronic Fatigue Syndrome and Chronic Muscle Fatigue
Carpal Tunnel Syndrome
Bone Breaks, Fractures, or Dislocations
Migraines and Headaches
Cancer and Associated Treatment Pain
Post-Surgical Rehab
Whiplash from Workplace or Motor Vehicle Accidents
Increasing Bodily Awareness
Improving Joint Mobility, Circulation, Immune System Functioning, and Lymphatic Drainage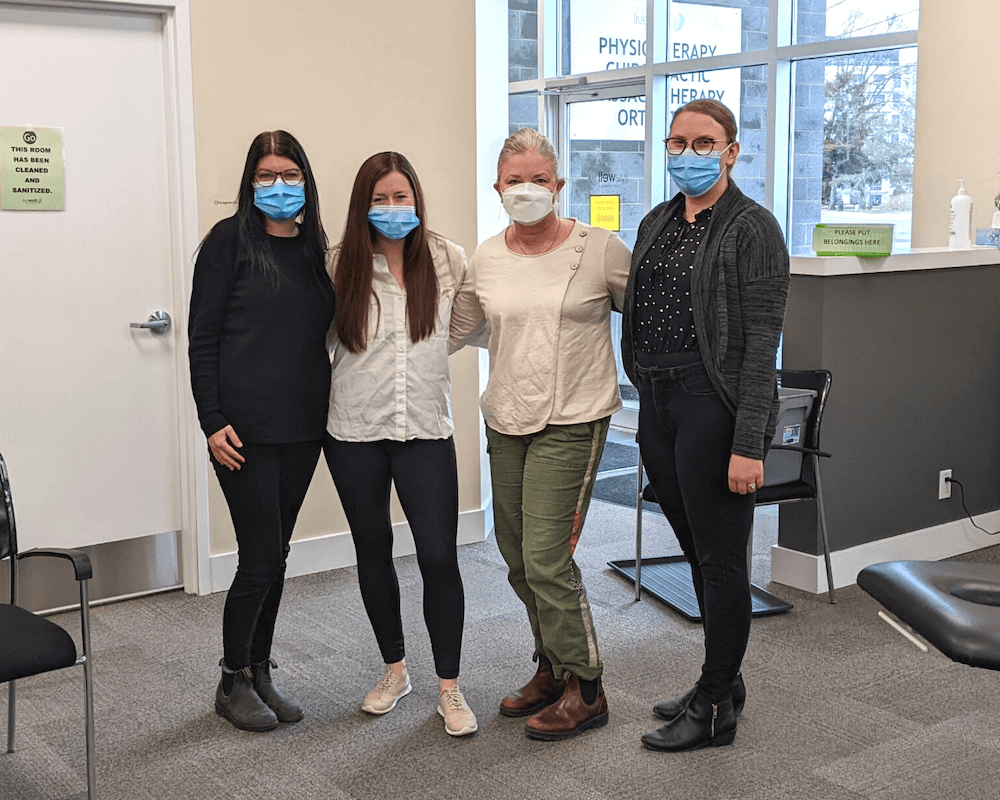 —
As LiveWell Health & Physiotherapy is committed to the health and rehabilitation of our patients, our physiotherapy, chiropractic care, and massage therapy services will support you in recovering from injuries, coping with chronic conditions, and maintaining a healthy lifestyle. We hope this blog provided you with valuable insight in terms of how our services can bring your health and wellness to the next level. Stay tuned for next month's blog to learn about the additional LiveWell services that can treat your chronic conditions! Also be sure to head to our physiotherapy, chiropractic care, and massage therapy service pages to learn more about our services or contact us to book an appointment at our Lancaster, Waterloo, Driftwood, or Baden locations. Our team looks forward to supporting you in your health and rehabilitation!
Want more lifestyle advice on how to improve your health and wellness? Contact our LiveWell Health and Physiotherapy Kitchener (Lancaster and Driftwood), Baden, or Waterloo teams for more information and to book your next appointment. You can also reach out to us by email or social media, and one of our team members will be more than happy to answer any of your questions! All of our practitioners have tips and expert guidance to help improve your health and overall quality of your life.