Here at LiveWell Baden, our team is proud to provide a full circle of healing practices with customized treatment plans tailored to our patient's individual needs. We're happy to welcome all types of patients with all types of health and wellness goals, and we're committed to making every appointment one that helps our patients reach their maximum potential. Thank you for choosing the LiveWell Baden team to be a part of your health journey, our patients are what drives us day in and day out. With that, we're pleased to introduce our LiveWell Baden team!
---
1) Physiotherapists
---
Greg Heikoop
Greg is a physiotherapist here at LiveWell Baden. He has been a part of the Baden team since the clinic opened in 2006 and he now oversees both the clinic and the team.
Greg's focus is on orthopedic patients in various populations, where one-to-one manual therapy and patient-centred care are emphasized. He is also very passionate about Differential Diagnosis, in which he always strives to provide the highest level of assessment to each of his patients. His primary models of care include educating his patients about their current injuries and creating an understanding of how to avoid future injuries.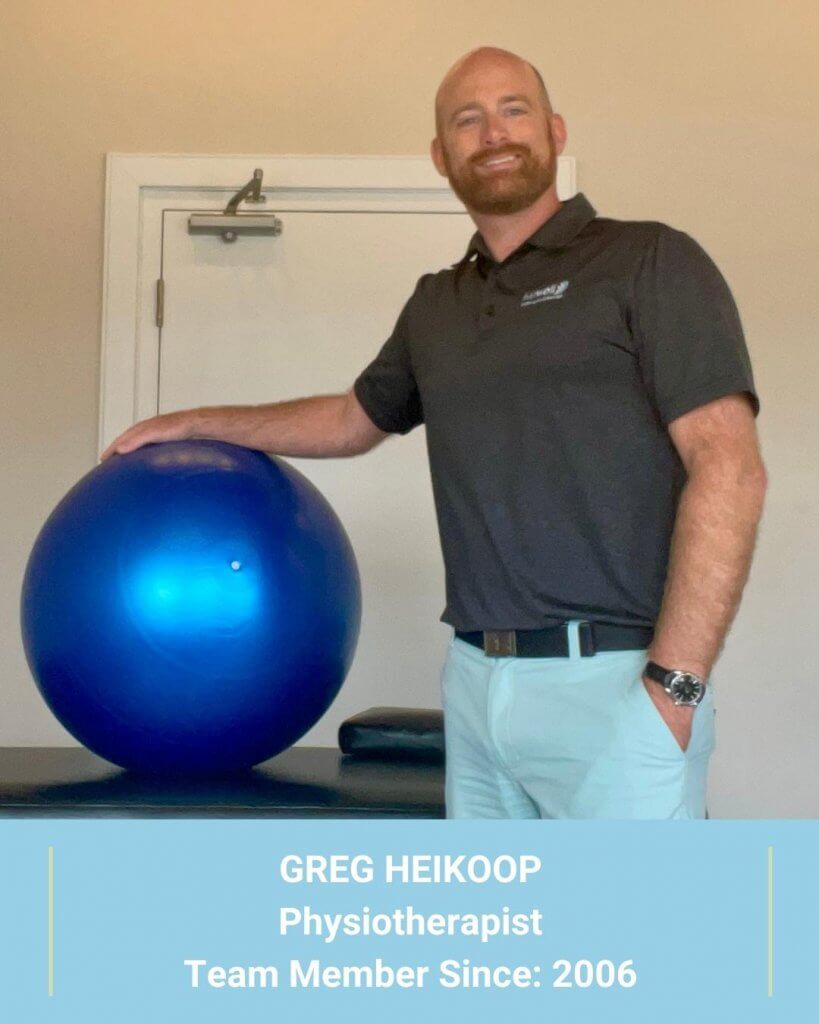 Why do you enjoy working at LiveWell?
"I enjoy working at LiveWell because of the strong sense of community connection that is reflected in the attitude of the patients and the team I work with. Physiotherapy was something that I fell into by luck but found to be the most amazing job – offering the chance to improve people's life and wellness. As a physiotherapist, I love having the ability to connect with my patients and seeing them through their stages of recovery and prevention. As a Clinic Director, I am truly blessed to have such an amazing and strong team of colleagues to call friends. The entire team at LiveWell continues to work towards the common goal of wellness in their patients' lives as well as their own." – Greg
What makes your patients so special?
"The patients at LiveWell are amazing because they are the ones that give us a chance to improve their lives by making the effort to come into the clinic. It takes a great amount of time and effort to improve your wellness, and without our patients, we wouldn't have such an amazing clinic to work in." – Greg
---
Mike McLeod
Mike has been a physiotherapist for LiveWell Baden since 2018. He completed his Honours Bachelors Degree in Kinesiology, as well as his Masters of Physiotherapy Degree at McMaster University. Mike aims to provide patients with a balance of exercise management and manual therapy techniques, while also providing them with the tools they need to perform effective home exercise programs.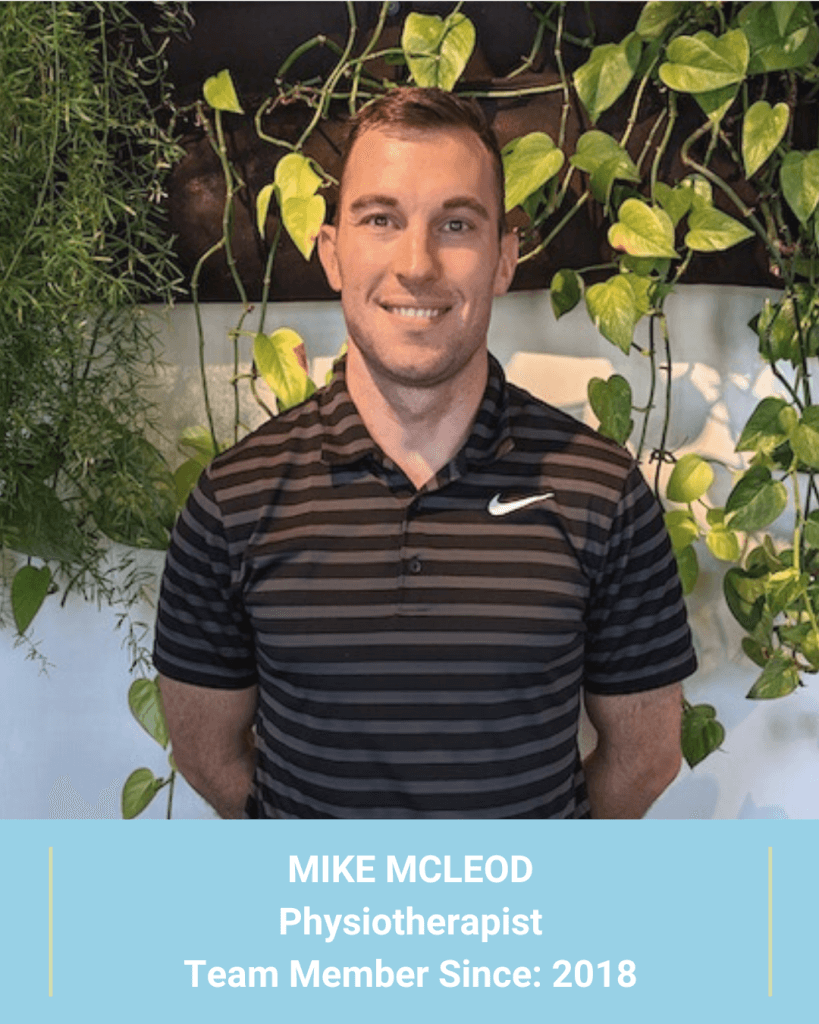 What makes the Baden community so special?
"Baden and the small towns around KW have shown a great response of community support for the many local businesses that were impacted the last few years. This sense of community strength is what makes our small communities so special, and I'm glad to be a part of an organization and team that reflects authenticity, honesty, and integrity." – Mike
---
2) Chiropractor
---
Dr. Josh Dlugokecki
Dr. Josh has been working as the clinic's chiropractor since November 2020. He has a strong connection to the inter-disciplinary practice that LiveWell offers, and his practice style includes spinal & extremity manipulation and mobilization therapy, soft tissue therapy, acupuncture, rehabilitation exercises, and education. He has also completed training for physiotherapy exercise and physical activity for knee osteoarthritis, which he also aims to include in his practice.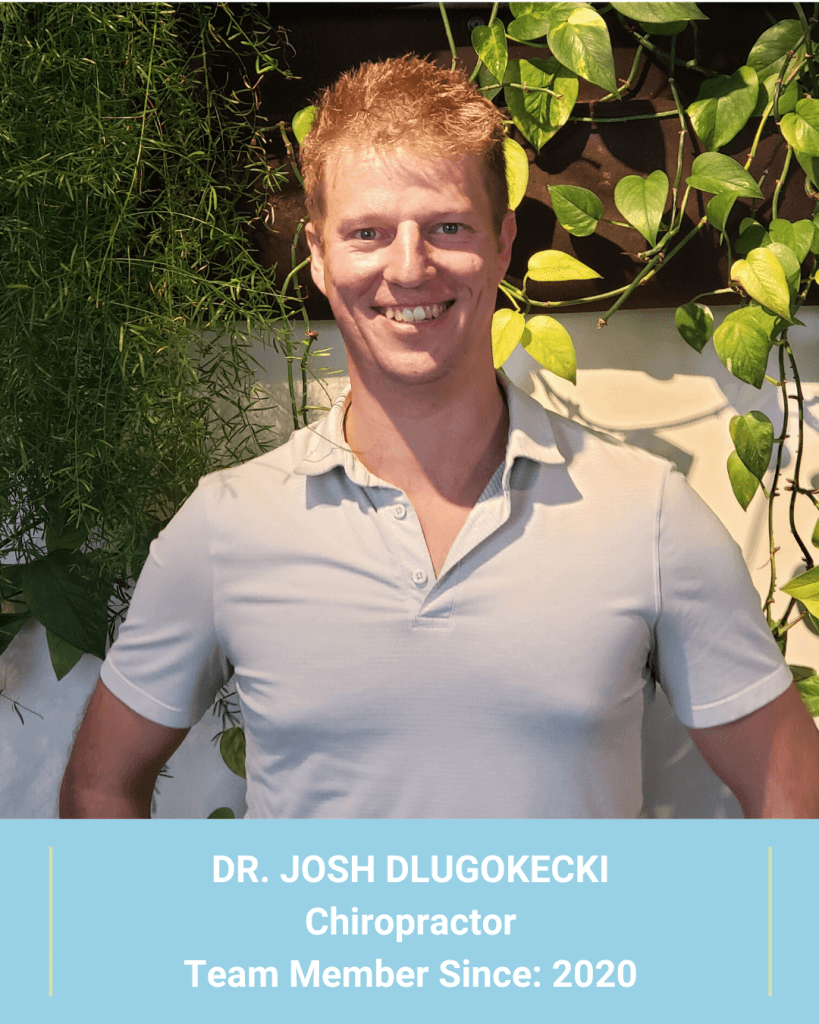 Why do you enjoy working with your patients at LiveWell Baden?
"I enjoy working with my patients at the Baden location as they encompass a small community and always have a positive outlook on life. I love the daily interactions with our patients and establishing myself as part of the close-knit community in the Wilmot region. I strive to create a space where the community can feel confident in their treatments, injury recovery, and wellness plans for themselves and their families." – Dr. Josh
---
3) Registered Massage Therapists
---
Kris Long
Kris just recently joined the LiveWell Baden team as a registered massage therapist. She graduated from the Canadian College of Massage and Hydrotherapy and has practicing massage therapy since 2018. Her focus of care is deep relaxation, mindfulness, and connecting patients to their bodies to promote healing within the para-sympathetic nervous system.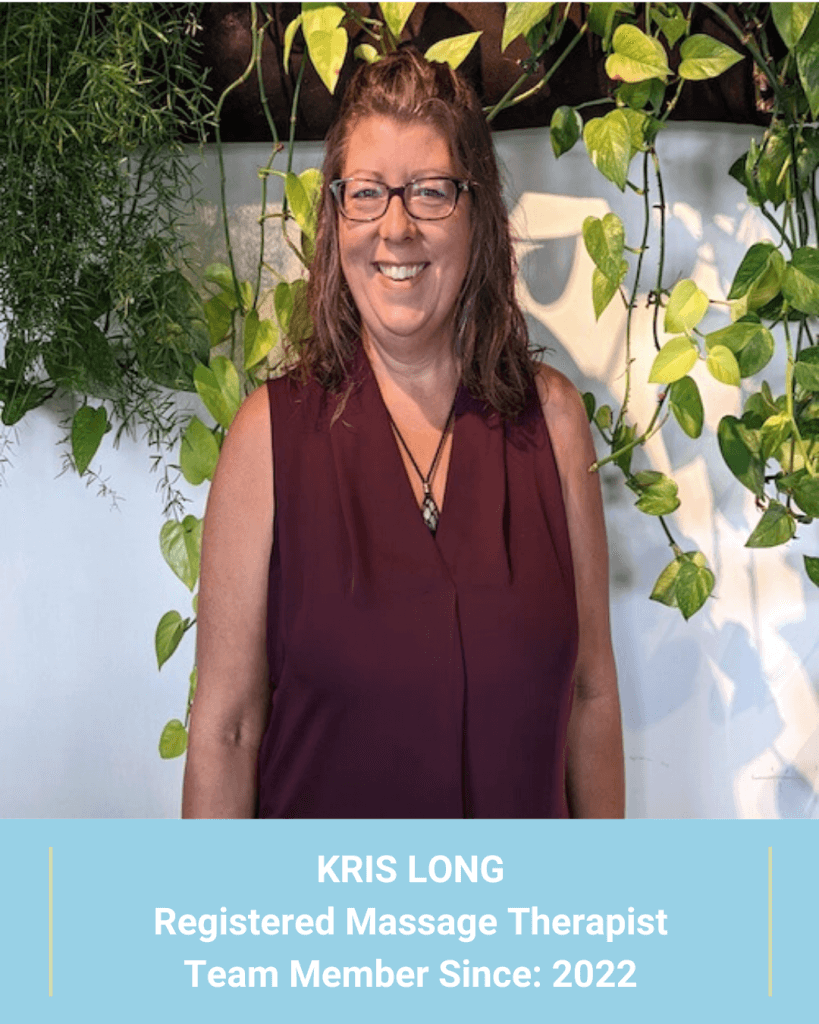 What is your approach to massage therapy?
"I live by the quote, 'Empower, Inspire, Heal'. I always strive to empower my patients with knowledge, inspire them for better health and wellness, and set them on the right course for healing." – Kris
---
Trisha Wilkins
Trisha is another one of our registered massage therapists. She joined the team in August of 2022 after graduation from Medix College and practicing massage therapy since 2017. Trisha specializes in a variety of Swedish Massage Techniques along with Myofascial Massage Therapy, Hydrotherapy, Active Release Therapy, and Arthrokinetic Therapy, which assess and treats the dysfunctions of the body.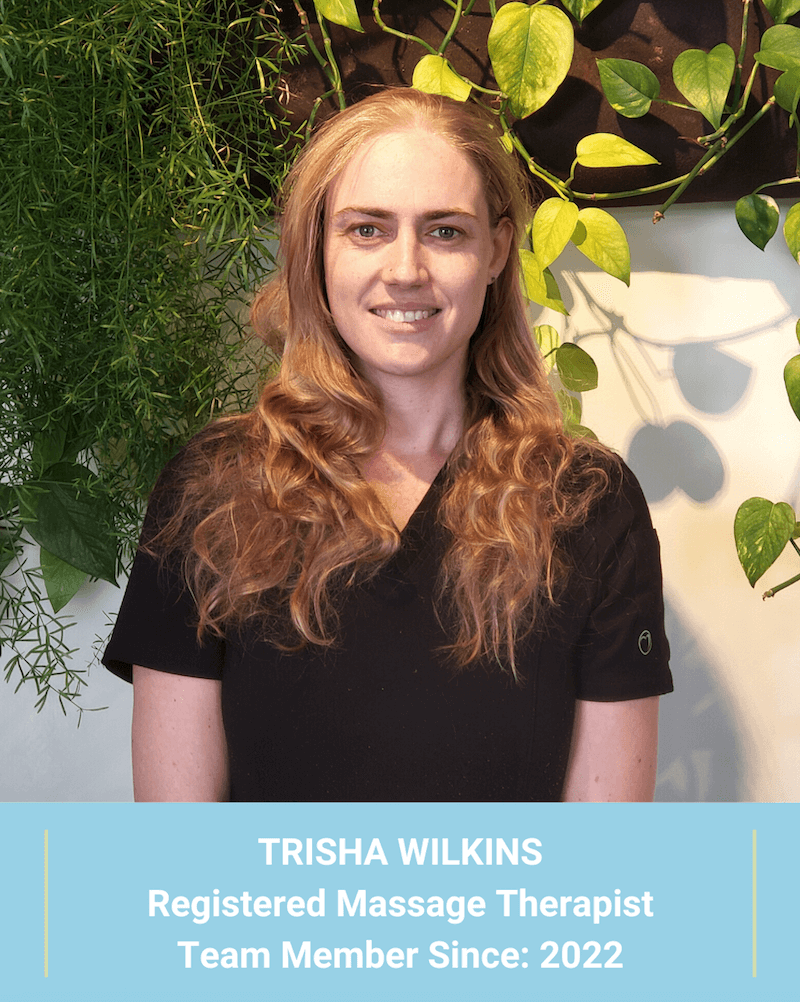 What inspires you as a registered massage therapist?
"My interest in human anatomy and physiology, combined with my passion for health and well-being inspired me to pursue a career in massage therapy. Since graduation, I have continued my studies in anatomy and believe that understanding the human body is the foundation for an effective and safe treatment. I believe that incorporating manual treatments, postural education, and informing the patient on home-care techniques can prevent future re-injury, discomfort, and pain." – Trisha
---
Naomi Fountain
Naomi joined our team in April 2022 and has been working as an RMT for over 22 years. She specializes in therapeutic massage, which involves the manipulation of soft tissue and joints. This type of massage treatment helps maintain, rehabilitate, and increase physical function to relieve pain. Naomi's top priority is to help her patients fulfill their healthcare needs.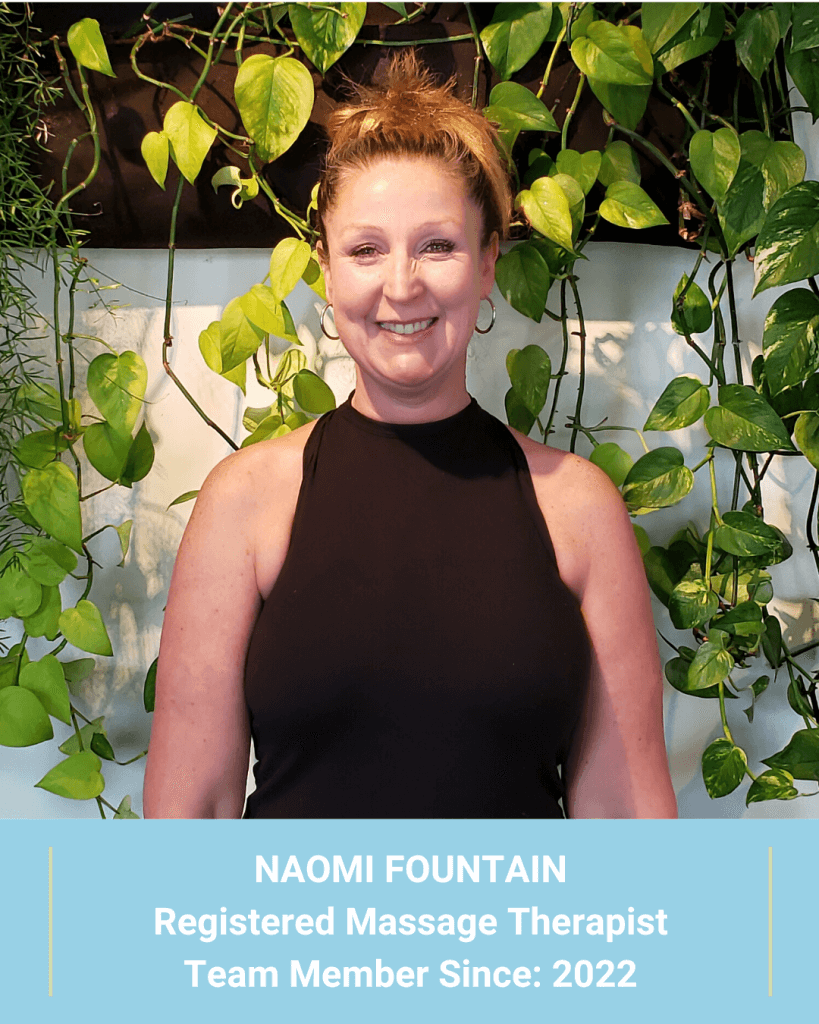 What attracted you to working at LiveWell Baden?
"LiveWell Baden has a beautiful and relaxed atmosphere with wonderful practitioners. Such a setting allows patients to relax, unwind, and feel energized and ready to take on their day. I have met many wonderful people from Baden and the surrounding areas since joining the team, and I intend to live out the rest of my career at LiveWell Baden." – Naomi
---
4) Pelvic Health Physiotherapists
---
Carolyn Joseph
Carolyn has been working at LiveWell Baden since 2016 and LiveWell Waterloo since 2021. She first spent her career working in orthopedics and sports rehabilitation and she now exclusively practices pelvic physiotherapy.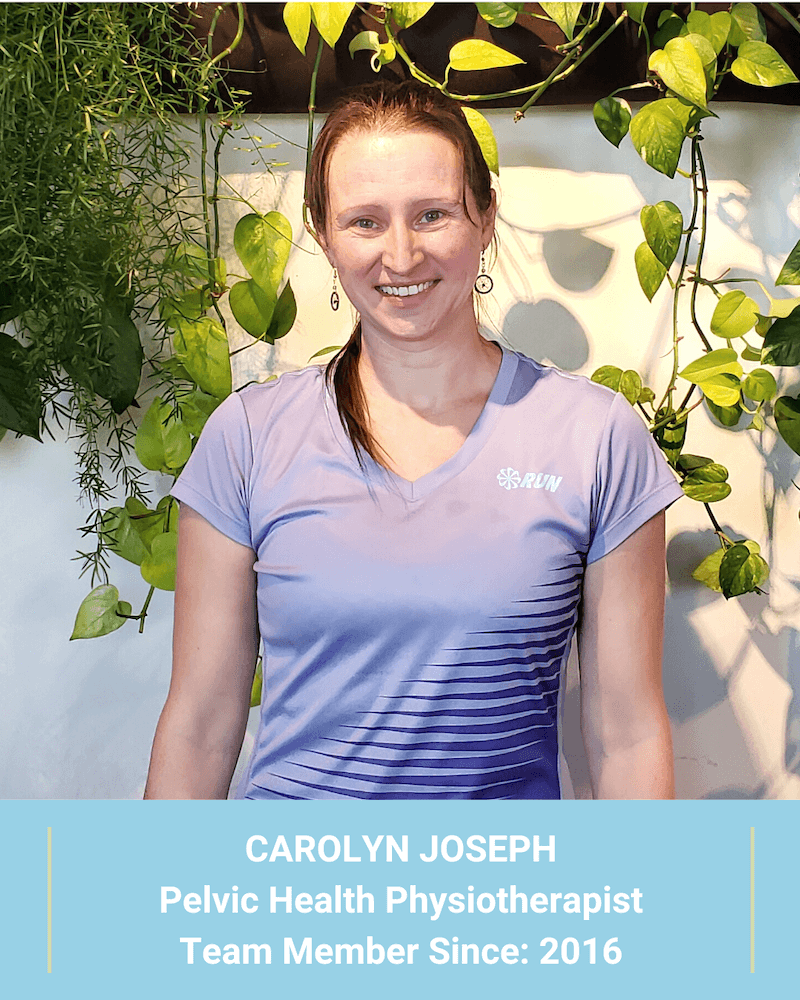 Why pelvic physiotherapy?
"I am passionate about pelvic health. There can be such a dramatic improvement in function, and well-being can be achieved in this very important – and often not talked about – area of people's lives. It is important to me that pelvic health and its symptoms can be talked about and thought of in a comfortable and confident way." – Carolyn
---
5) Osteopathic Manual Practitioner
---
Tammy Tourout
Tammy has been part of the Baden team since 2015. She was originally practicing as a registered massage therapist, but completed training as an Osteopathic Manual Practitioner in 2017 and has been practicing osteopathy since. Tammy's treatments focus on science-based manual techniques to treat musculoskeletal pain, as well as general maintenance of the body.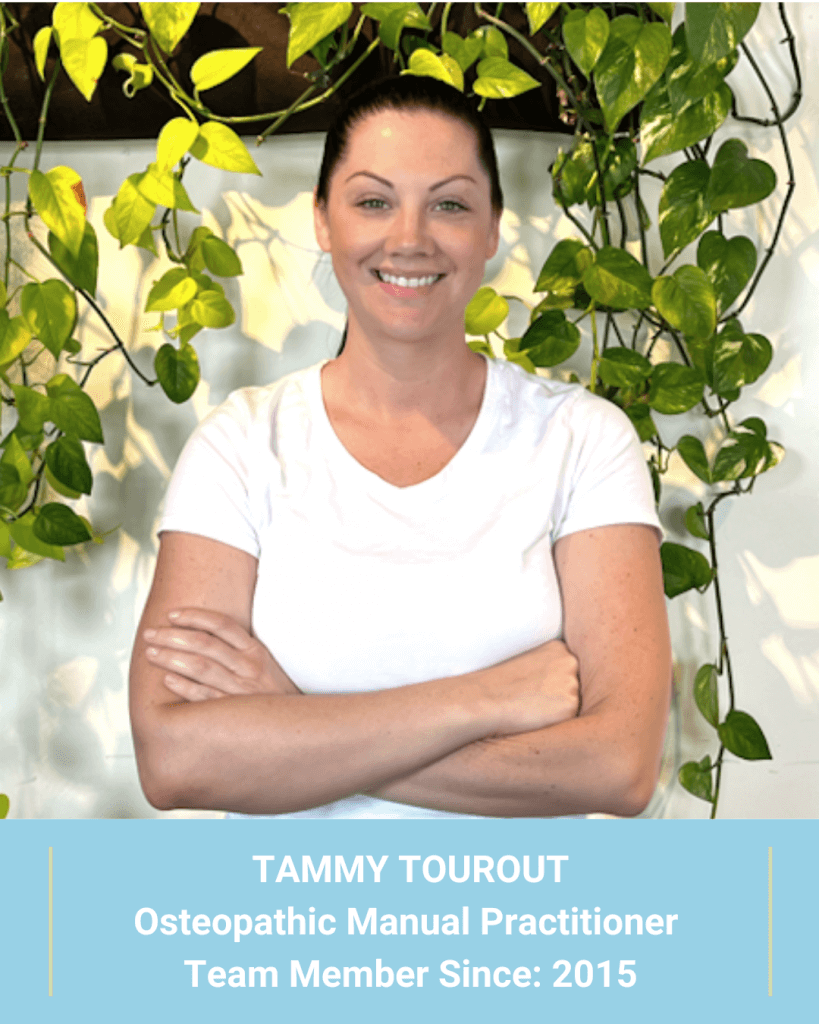 What sparked your interest in osteopathy?
"Osteopathy is a very well-rounded treatment using various techniques, and because of that, I find it is beneficial for everyone. Prior to becoming an Osteopathic Manual Practitioner, I was in massage therapy school where I had a teacher that was an osteopath. After a few osteopathy treatments for myself along with the effective relief I received from my treatments, I became highly interested in the field." – Tammy
---
6) Certified Pedorthist / Pedorthic Technician
---
Danielle Molnar
Danielle has been working at LiveWell Baden since 2020. She has been a pedorthist for over 25 years, and she takes pride in helping patients walk and run more comfortably. Danielle specializes in hand-crafted, custom-made orthotics and orthopaedic footwear including footwear modifications and compression stockings.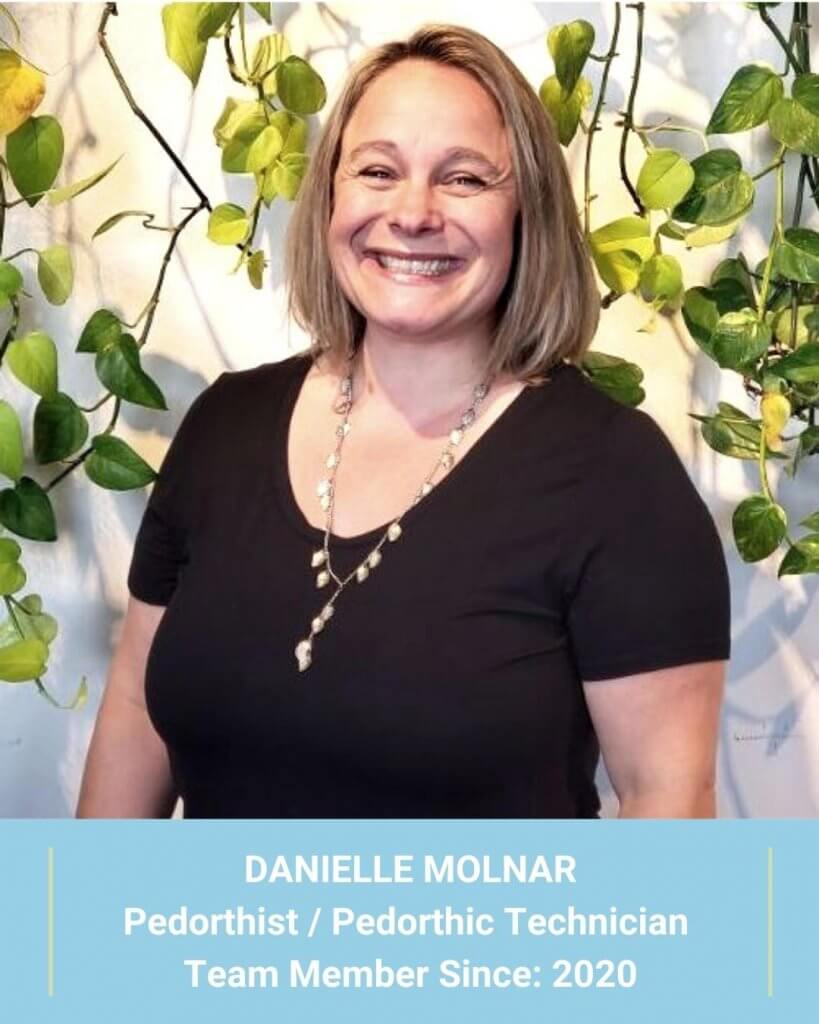 What motivates you every day?
"Live with Passion!" is a quote by Tony Robbins that has been my motivation throughout most of my life. Working at LiveWell with a great team of colleagues fulfills my goal of enjoying where I work and whom I work with. Everyone's experience and expertise, along with working as a team collectively to help a patient reach their health goals creates an amazing workplace environment. I absolutely love what I do!" – Danielle
---
7) Office Administrator
---
Talitha Scroth
Talitha has been an Office Administrator at LiveWell Baden for just over two years. She helps organize appointments, handle patients, and ensure the clinic is in proper function.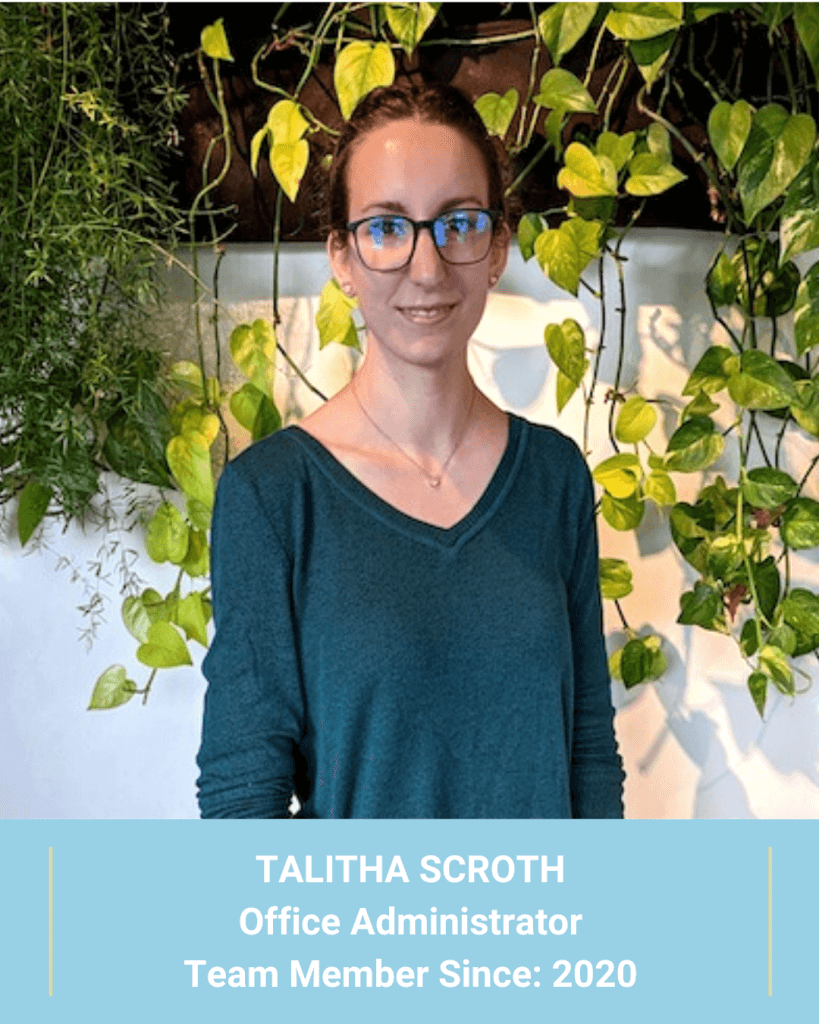 Why do you enjoy working at LiveWell Baden?
"There are many reasons why I love working at LiveWell Baden, but the main reason would be the atmosphere. Everyone here makes it their priority to create a place where it's easy to walk through the doors and feel like you're at home. I love the interactions with each patient, and I think what makes LiveWell so special is our focus on the patient experience and our efforts in providing the best possible treatment we can." – Talitha
—
And that's the LiveWell Baden team! We hope you enjoyed learning about our highly motivated and dedicated team members. If you would like to book an appointment with any of our practitioners, please do not hesitate to contact us or to schedule an appointment through our Online Booking System. We look forward to being a part of your health and wellness journey!
[/et_pb_text][/et_pb_column] [/et_pb_row] [/et_pb_section]