At LiveWell Driftwood, we're dedicated to providing long-term health solutions through advanced and proven therapy techniques. Growing into a multi-disciplinary health and wellness centre, our team always places the success of our patients at the forefront of our clinic. We're happy to welcome all types of patients with all types of health and wellness goals, and we want every appointment to be one that supports our patients in reaching their full potential. Thank you for choosing the LiveWell Driftwood team to be a part of your health journey; our patients are our motivation each and every day. With that, we are proud to introduce our LiveWell Driftwood team!
---
1) Physiotherapists
---
Priya Chandra
Priya is a physiotherapist here at LiveWell Driftwood. She has been a part of the team since March 2021, after completing her Bachelors in Health Studies from the University of Waterloo and Masters Degree in Physical Therapy from the University of Western Ontario. She has also recently gained her credentials in the Mckenzie Method of Assessment and Treatment, also known as, Mechanical Diagnosis and Therapy (MDT), a scientifically proven assessment system to treat neck, back, and extremity problems.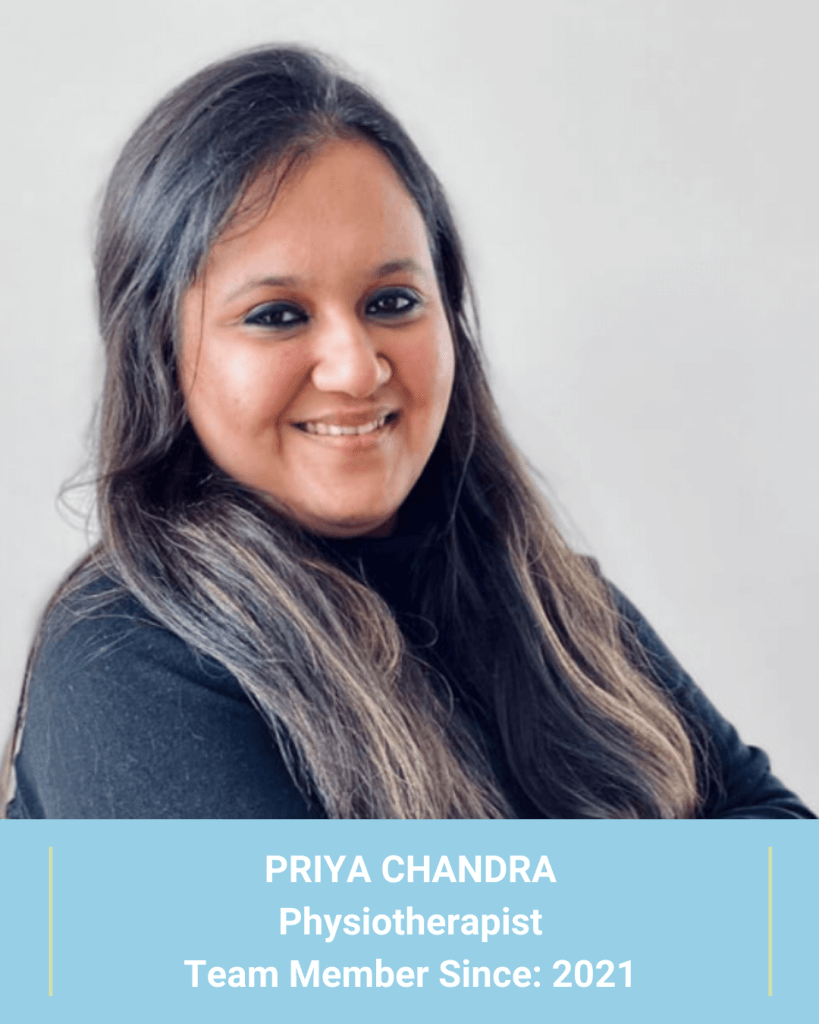 How do you approach treatment for your patients?
"I believe in empowering my patients through strategies of self-management. I mainly focus on active exercise interventions to help patients take control of their pain and get back to what they love doing. I also use a mix of clinician techniques and patient-generated movements for my treatments." – Priya
---
Andrew Daly
Andrew is a physiotherapy resident working at both the LiveWell Waterloo and Driftwood locations. His passion for rehabilitation led him to begin working at LiveWell (previously Absolute Rehab Centre) in 2017 as a physiotherapist assistant, where he decided to return to school to pursue a career as a physiotherapist. He returned to the LiveWell team as a physiotherapy resident in 2021 after graduating from the Physical Therapy program at the University of Toronto. Andrew uses a balance of patient education, manual therapy, and targeted exercises to deliver an individualized treatment program.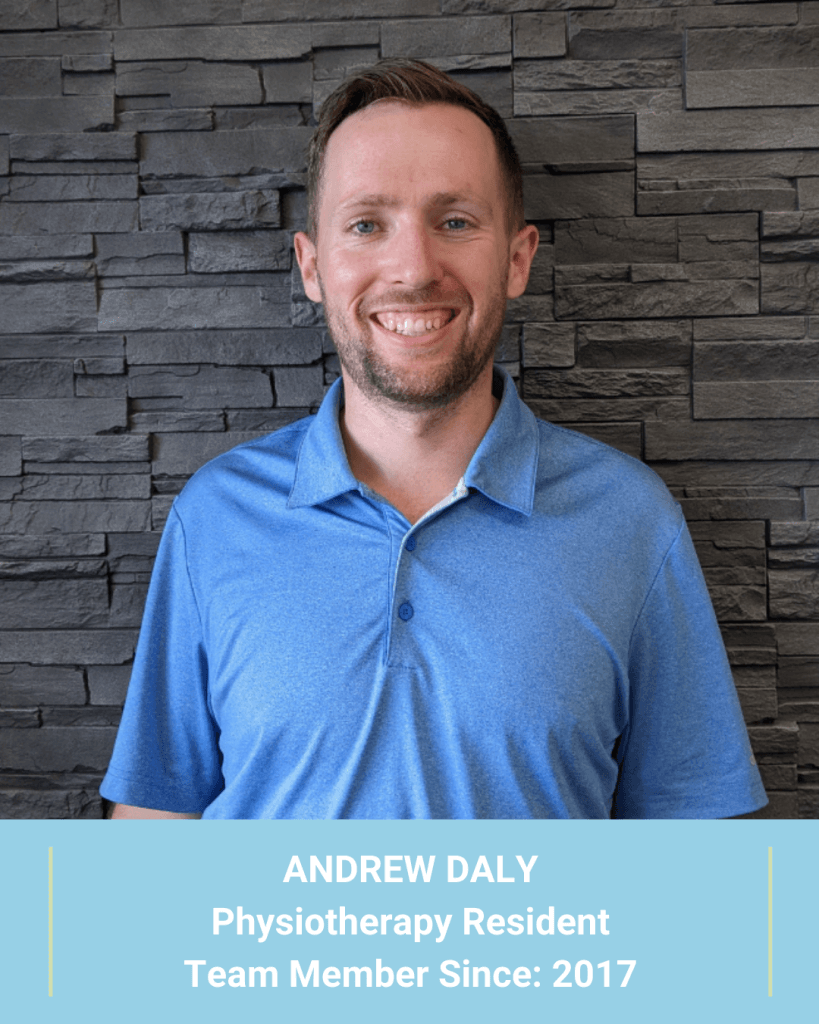 What made you decide to return to LiveWell after completing school?
"There are many reasons as to why I returned to LiveWell to continue my physiotherapy career, but the number one reason would have to be the people. When working as a PTA, I got to work with, and learn from, an excellent group of practitioners and staff that are not only passionate and dedicated to providing outstanding patient care, but also foster such a positive workplace culture. I am excited to be back working at LiveWell and growing with this incredible multi-disciplinary team." – Andrew
---
2) Chiropractors
---
Dr. Michael White
Dr. Michael White is both the Clinic Director and chiropractor at LiveWell Driftwood and has been a part of the team since 2001. In addition to his Bachelor of Science Degree from the University of Waterloo, Dr. Michael White also received his Doctorate of Chiropractic from Parker College of Chiropractic in Dallas, Texas.
What is your approach to chiropractic treatment?
One phrase that really stuck with me throughout my education is "patients don't read textbooks". This idea has encouraged me to think outside the box when treating conditions that seem unusual or when treating patients with severe symptoms in the absence of any positive tests." – Dr. Michael White
---
Dr. Adam Gulas
Dr. Adam Gulas has been a practicing chiropractor for 22 years now. We say practicing because he approaches every day as a new and exciting challenge. Dr. Adam Gulas understands that health is about being proactive instead of reactive and he promotes LiveWell as a healthcare system that can help patients through the tough. Health comes from within us, and it is up to us to take care of our own bodies.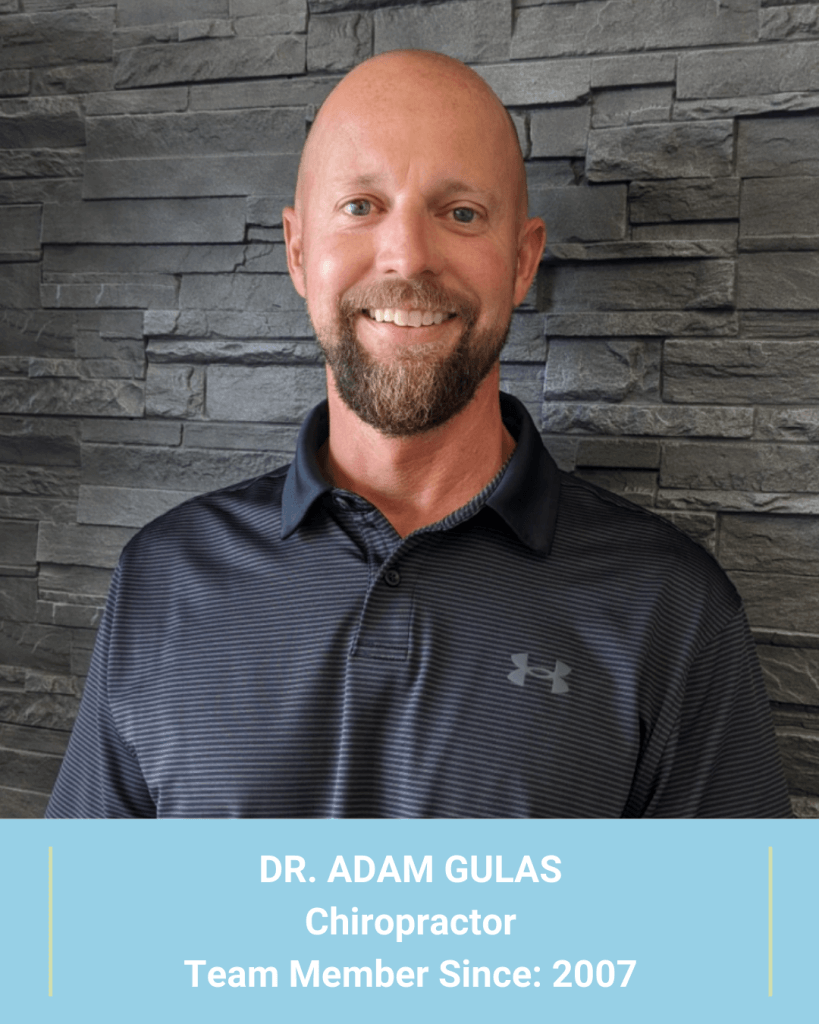 What makes LiveWell so special?
"I love working with the LiveWell team because as a solo practitioner, it gives me access to refer patients to other health care practitioners I know, see, and trust on a daily basis. This, in turn, helps with what matters most, which is the health and wellbeing of each and every patient." – Dr. Adam Gulas
---
3) Registered Massage Therapists
---
Stephanie O'Neill-Beetham
Stephanie has worked as a registered massage therapist at LiveWell Driftwood (formerly known as Chiropractic Health Centre) since it first opened in June 2018. She graduated from the Ontario College of Health and Technology with a Diploma in Massage Therapy, as well as from Sheridan College with her Bachelor in Applied Health Science (Athletic Therapy).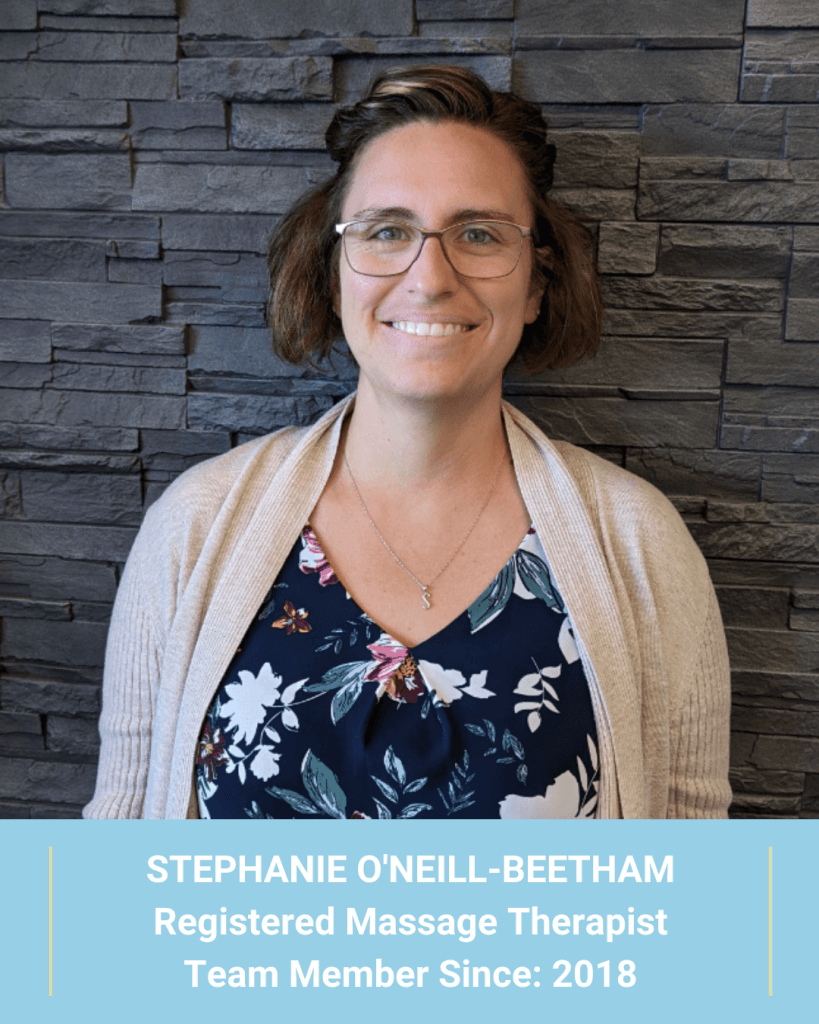 Why do you love being a registered massage therapist?
"I do what I do because I want to help people feel better – with patients coming in with aches and pains and leaving saying they feel so much better! It makes me feel great knowing I had a hand in helping patients feel better. I might not completely fix the problem with one treatment, but it feels great showing patients that it will get better with a bit of help." – Stephanie
---
Julie Schroth
Julie has been a registered massage therapist for more than 12 years now and has been on the LiveWell Driftwood team since 2019. She graduated from CCMH in Kitchener with honours and has furthered her studies in pregnancy massage and headache treatment and management.
What type of massage treatment do you offer to your patients?
"I offer a balance between therapeutic, rehabilitative, and relaxation massage therapy, based on the patients' needs. I enjoy working in a field where I am able to make a positive impact on the health and wellbeing of my patients." – Julie
---
Maggie Kuepfer
Maggie has worked as a registered massage therapist at LiveWell since July 2022 and has been working as an RMT since December 2021. Maggie graduated with honours from Trios College in 2021, and she provides a variety of Swedish techniques, as well as some advanced techniques such as myofascial release, trigger point therapy, joint mobilizations, and PNF stretching.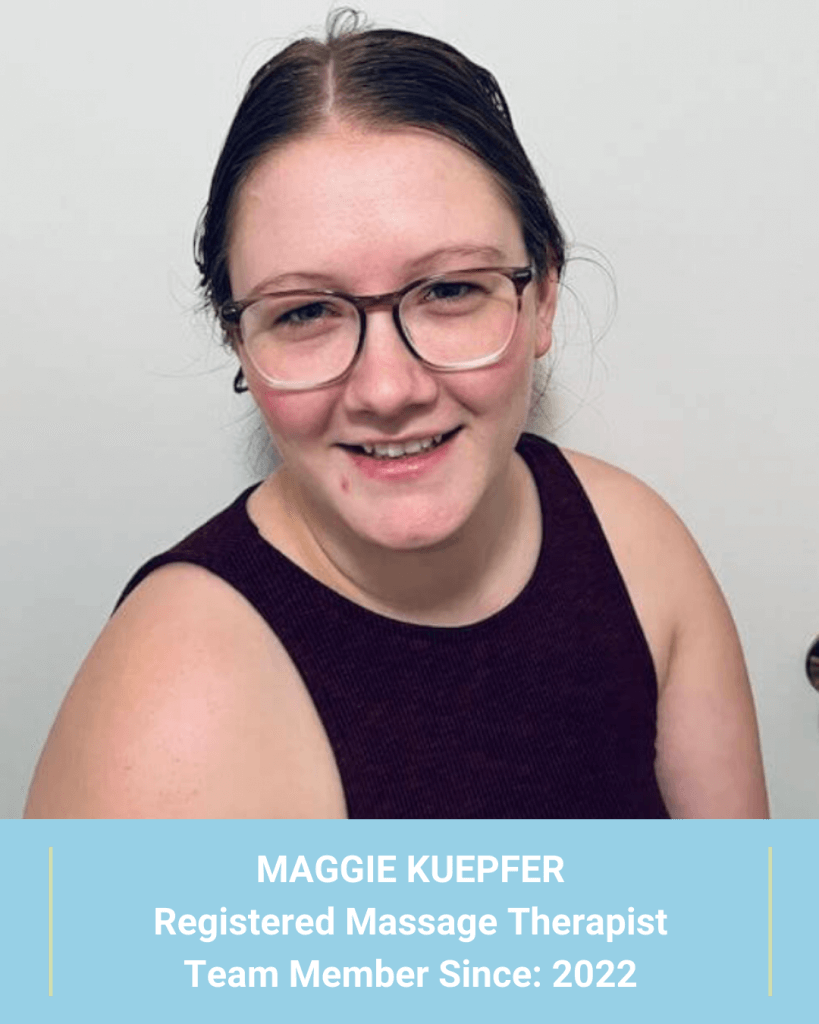 Why do you enjoy being a registered massage therapist?
"I am very passionate about massage therapy. With my focus on healing and wellness, I believe in the power of healing through massage. LiveWell is also a very welcoming clinic! It's a relaxing work environment in a great neighbourhood. I'm very much enjoying getting to know the neighbourhood through my patients, it makes my role as an RMT that much more rewarding."
– Maggie
---
4) Pelvic Health Physiotherapist
---
Helena Dackovic
Helena is our pelvic health physiotherapist and has been on the LiveWell Driftwood team since 2021. She adjusts her treatment sessions to each individual patient and their own pace toward recovery.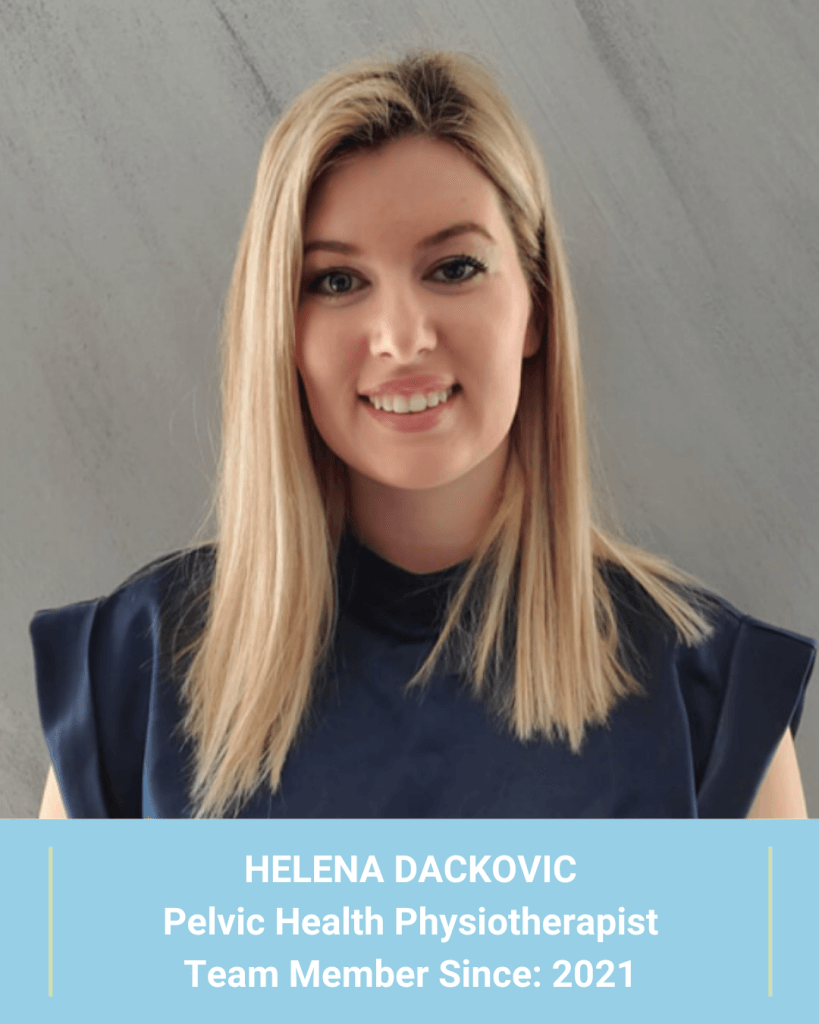 Why do enjoying working with your patients?
"I enjoy working with patients who are looking for help in the areas of physiotherapy related to the pelvic floor. Patients often come to me unsure of pelvic physiotherapy and what it entails, but I love to walk them through the entire pelvic program and explain just how it can benefit each individual." – Helena
---
5) Osteopathic Manual Practitioner
---
Mitch Forster
Mitch just recently started working at LiveWell Driftwood, however, he has spent 4.5 years studying osteopathy. He completed his Master of Osteopathic Manipulative Sciences diploma from the Canadian Academy of Osteopathy and is also board certified (OSTCAN/OOA).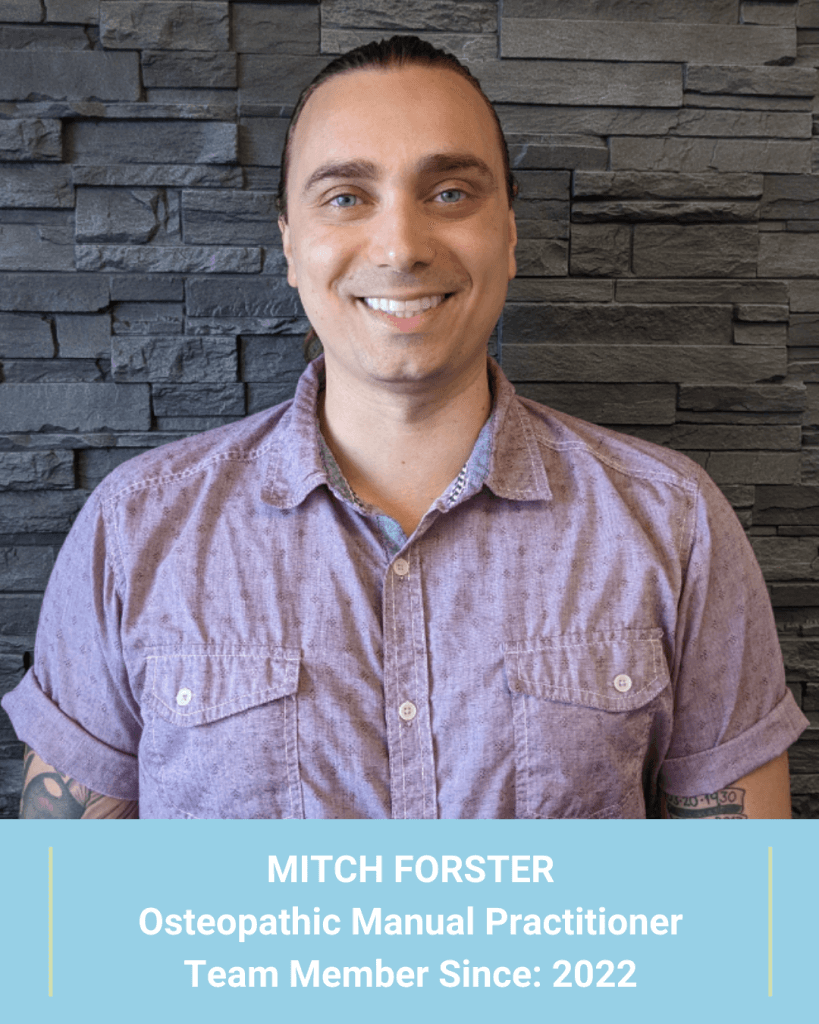 Why did you choose osteopathy as your career path?
"I chose Osteopathy because I've always been fascinated with the human body and its almost unlimited potential. Osteopathy proves that, given the right circumstances, the human body is completely capable of self-healing and self-regulating. Every patient is a new puzzle to solve as they are completely unique and should be treated as such." – Mitch
---
6) Office Administrators
---
Mary Koebel
Mary has been a member of the LiveWell administrative team for 14 years. In addition to scheduling and other front desk duties, she is also the clinic contact for all motor vehicle accidents and workplace injury inquiries at LiveWell Driftwood.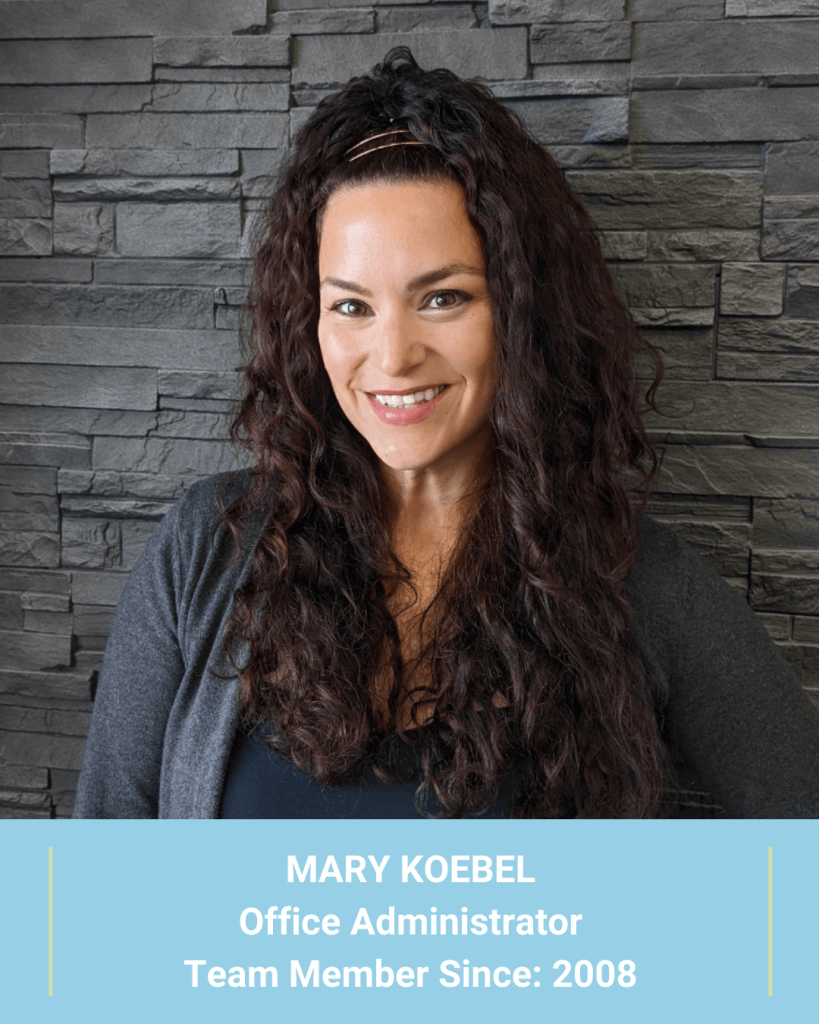 Why do you enjoy your administrative role at LiveWell?
"I love serving as a patient advocate at LiveWell Driftwood so that patients can worry less about paperwork and focus more on their healing." – Mary
---
Hallie Weaver
I have been working as an Office Administrator at LiveWell since April 2022. As a mom of two little ones, Hallie is able to balance home and work life, making her role perfect for her lifestyle.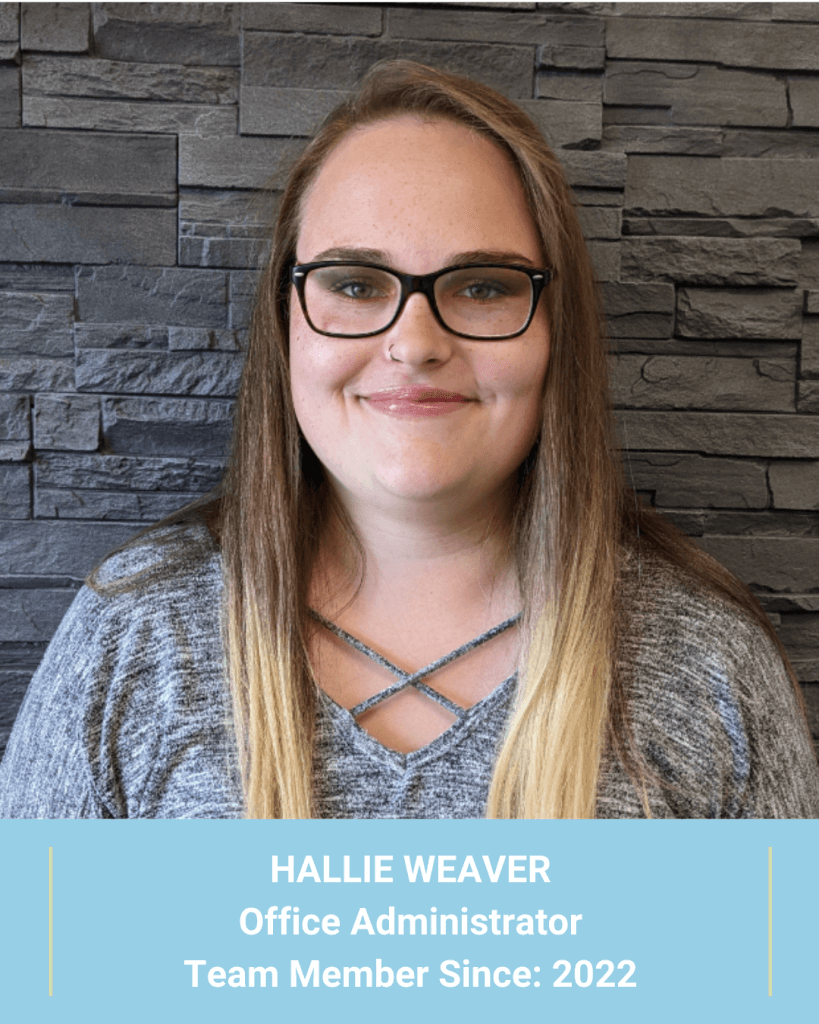 Why do you enjoy your role and working at LiveWell?
"I love working at LiveWell because of the environment, atmosphere, and ability to live out my dream job. LiveWell is a special place for me because it is the first place I have worked since graduating college. I love the values, work ethic, and personalities of my coworkers, and how comfortable of a work environment it is. I hope to continue to grow at LiveWell for years to come! I value each and every one of our patients because they are who keep me thriving in my position and make my job that much more enjoyable." – Hallie
—
And that's the LiveWell Driftwood team! We hope you enjoyed learning about our highly motivated and dedicated team members. If you would like to book an appointment with any of our practitioners, please do not hesitate to contact us or to schedule an appointment through our Online Booking System. We look forward to being a part of your health and wellness journey!