In today's stressful and fast-paced world, it is no wonder why more people than ever before are turning to naturopathy. But what is naturopathic medicine exactly? Naturopathic doctors combine traditional forms of natural medicines with the most recent health research in order to treat the root cause of illness. Want to dive deeper? Follow along with this month's blog to learn all about Naturopathic Medicine and how it can help you recognize optimum health.
Meet Dr. Melissa Bucking – LiveWell's New Naturopath!
Exciting news! Dr. Melissa Bucking is the newest member of LiveWell Driftwood – she is a Naturopathic Doctor and will be available for appointments on Mondays and Wednesdays from 11 AM – 6 PM. Along with her passion for digestive health, Melissa also treats a variety of other conditions including Fibromyalgia, Chronic Fatigue Syndrome, Post-Concussion Syndrome, Eczema, and Fertility. Check out our team page to learn more about Melissa and make sure you follow Melissa on Instagram!
With Dr. Bucking on board, we wanted to dedicate this blog to Naturopathic Medicine so that you can get to know more about her and her service offerings. Let's start with the basics.
What is Naturopathic Medicine?
Naturopathic doctors combine traditional forms of natural medicines with the most recent health research in order to treat the root cause of illness. The goal is to stimulate the healing power of the body while focusing on whole or overall patient wellness. It is important for naturopaths to treat the individual and look to the body for warning signs of improper function and unfavourable lifestyle habits. By supporting the body's inherent ability to heal, naturopathic doctors teach patients how to create wellness and prevent illness. They are able to diagnose patients while also running necessary lab and blood tests.
How Does Naturopathic Medicine Help?
Naturopathic doctors can treat a wide variety of health concerns for all ages ranging from acute to chronic and physical to psychological. A naturopathic treatment plan can include nutrition guidance, lifestyle management, herbal medicines, supplements, acupuncture, hydrotherapy, or a combination of these therapies. It's vital to note here that proper naturopathy does not rely on diet culture or restrictive eating – instead, your naturopath should explain why they are recommending what to eat and how to make it easy to include in your diet. The same can be said with lifestyle management: less focused on extreme restriction and more on routine building, proper exercise, stress management, and boundary setting.
Today, more and more patients are seeking naturopathic medical care for a range of conditions and symptoms. Oftentimes these people are seeking a different approach to healthcare and end up finding a new perspective or awareness. Here are some of the most common reasons people reach out to naturopathic doctors:
Disease prevention
Health promotion strategies
Treatment options for chronic conditions
Help to address symptoms that they have not been able to heal on their own or with other medical practitioners
The combination of conventional and naturopathic treatments to minimize the effects of drugs or surgery
Improving the overall quality of life
Conditions Treated
Based on the list above, naturopathy can help treat a broad spectrum of conditions. At LiveWell Driftwood, Dr. Melissa Bucking has a strong focus on digestive health, including IBS and heartburn. Below is a list of the most commonly treated conditions she sees in her patients, however, feel free to reach out and contact Melissa about something not on this list. She also offers free 15-minute consults so that you can connect and decide if there is something Melissa can help with outside or within this list.
Digestive Health:

Irritable Bowel Syndrome (IBS), inflammatory bowel disease (IBD), bloating, constipation, heartburn/GERD, celiac disease, diverticulitis, Crohn's disease, and ulcerative colitis

Women's Health:

Premenstrual syndrome (PMS), polycystic ovary syndrome (PCOS), irregular periods, fertility, perimenopause, menopause, heavy periods, and painful periods

Autoimmune Health:

Hypothyroidism, Hashimoto's, Fibromyalgia, Chronic Fatigue Syndrome, Lupus, and Multiple Sclerosis

Mental Health:

Anxiety, depression, stress, eating disorders, sexual dysfunction, brain fog, and memory support

Other Conditions:

fatigue, post-concussion, insomnia, migraines, diabetes, chronic hives, eczema, and psoriasis
How Do LiveWell's Naturopathic Plans Work?
Wondering if naturopathy may work for you and want to learn more about the process? The foundation of naturopathic diagnosis is learning more about you so that we can treat you like the individual that you are. Here is a breakdown of Dr. Melissa Bucking's new patient intake process:
1) Like most of LiveWell services, all new patients must begin with an initial visit. This allows us to collect an extensive patient history and full assessment including any necessary physical examination, review of current and past medication, and evaluations of lab tests or diagnostic imaging. This initial visit runs from 60 to 90 minutes with the end goal being a unique and tailored treatment plan.
2) We will book a second 60-minute visit after an initial appointment to review our long-term plan. This appointment will also involve a full assessment if any bloodwork was done in-between visits. Follow-up or regular appointments can be booked on an ongoing and as-needed basis.
That being said, if you have any questions about your treatment plan in-between appointments, please don't hesitate to email Dr. Bucking. If you have a question related to your last appointment or treatment plan, you can also book a quick 5-minute check-in call. Whatever symptom or condition you are experiencing, Melissa and our team can create custom treatment plans tailored specifically to your needs so that we can help you get on the right path toward healing and improving your overall health. Book your appointment with Melissa today!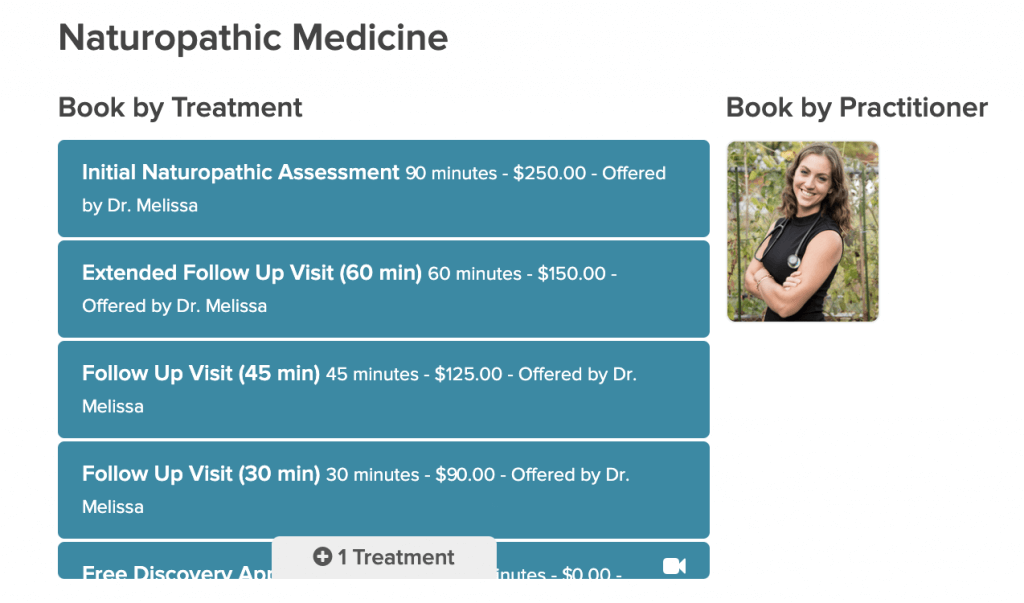 —
Want more lifestyle advice on how to improve your health and wellness? Contact our LiveWell Health and Physiotherapy Kitchener (Lancaster and Driftwood), Waterloo, or Baden teams for more information and to book your next appointment. You can also reach out to us by email or social media, and one of our team members will be more than happy to answer any of your questions! All of our practitioners have tips and expert guidance to help improve your health and overall quality of your life.